By Mandy Sunderland – Total Safety, Industrial Hygienist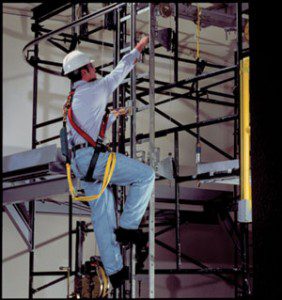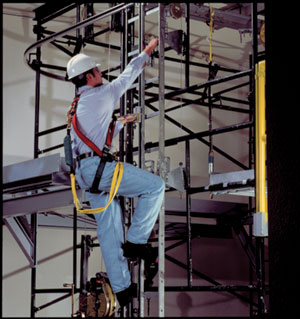 When there is an article missing around the house that an initial cursory search doesn't turn up, my husband, kids and I always challenge each other with the question, "Did you take the adult look?" As often, the person looking has walked right past the missing item in plain sight, or has failed to look in the most obvious places. All too often, this is the case with hazards in the work place. If we don't understand the nature of hazards and where they are most likely to crop up, it is easy to walk right by and not see them. And if a hazard in the workplace goes unrecognized for an extended period of time, it tends to become "invisible" to operators.
This unconscious acceptance of risk is often the case with improperly designed and installed elevated ladders, platforms and cages.
Of the most frequently cited OSHA Standards in the fiscal year 2010, ladders were in the top 10 percent including standards for which OSHA assessed the highest financial penalties.
In 2009, a refrigeration repair company was cited by OSHA for work site safety violations with proposed penalties of $15,750. In this case, an employee fell 12 feet to the ground while using a fixed ladder to access the roof of a building to service refrigeration equipment. He died from injuries sustained in the fall 10 days later. The company received two serious violations relating to using a fixed ladder with less than 7 inches of perpendicular clearance between the rungs and any obstruction behind the ladder — as well as failure to train workers on fixed ladder hazards.
In 2001, a drilling company was cited by OSHA for work site safety violations with proposed penalties of $71,000. In this case, an employee at an oil and gas drilling site lost his balance and fell 85 feet from a service platform near the top of a derrick tower. The company received 11 serious violations related to lack of personal protective equipment, improper fall protection, improper rigging of wire rope lines that run to the ground for an emergency exit, and gaps between rungs, cleats or steps of fixed ladders that exceeded 12 inches.
Total Safety is an expert on ladder, platform and cage safety and has spent many years conducting field assessments and inspections. Here is what Total Safety considers to be the most common violations of standards related to ladders, platforms and cages: (a) Ladders that are not parallel to landings, leaving gaps in excess of 12 inches that can result in fatal falls, (b)  Inadequate landing sizes on elevated platforms, especially those with second ladders off to the rear, which can lead to potential side falls, (c)  Obstructions in the back of ladders, including conduit and piping not at least 7 inches away from the climbing surface, (d) Ladder bases that are not within 12 inches of the ground, or concrete landing pads that are not at least 24 inches by 30 inches, (e) Ladder rungs greater than 12 inches apart and not uniform in size, and (f) OSHA type inspections not being performed annually by qualified personnel and documented per asset including multisection ladders from the top down.
Focus inspections on older equipment that may not have been built with current safety design features in mind.
Working at height is an "elevated" risk activity. Routine inspections and maintenance remain key in substantially reducing the number of on the job, ladder-related injuries. Be sure to take the "adult look" when conducting inspections, because accidents waiting to happen are often right in plain sight!