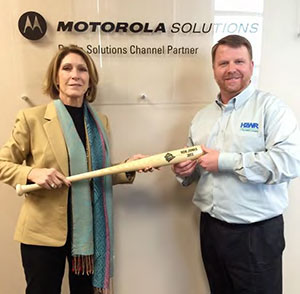 Motorola Solutions recently recognized Robert Jones, account manager, into the 2013 Heavy Hitter Club.
In 2013, Motorola Solutions developed a recognition program for partner sales representatives who achieve a certain sales volume. On Jan. 29, Eileen Clary, channel account manager for Motorola Solutions, presented Robert with a "Heavy Hitter" Bat inscribed with his name for display, and thanked Robert for his diligence in selling the Motorola product line.
Robert joined H2WR in September 2011. Let's all congratulate him on his achievement.