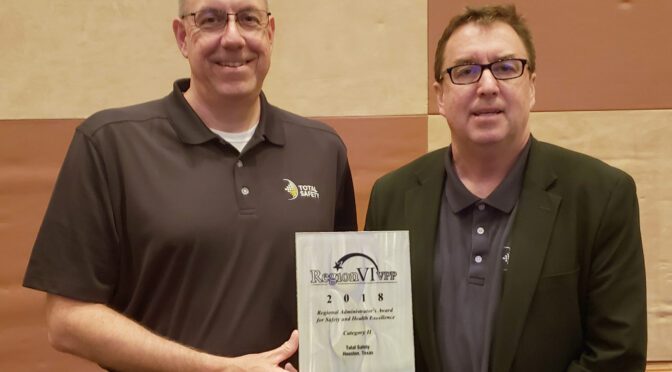 Houston – May 7, 2019 –  Total Safety was awarded the Region VI Occupational Safety and Health Administration (OSHA) Regional Administrators Award and 19 Star of Excellence Awards.  The awards were presented at the Region VI Voluntary Protection Program Participants Association (VPPPA) annual conference which was held in Oklahoma City. Region VI is made up of Arkansas, Louisiana, New Mexico, Oklahoma and Texas.
The OSHA Region VI Regional Administrators award is given annually to three companies in Region VI that go "above and beyond" in their commitment to workplace safety. Total Safety was recognized not only for their safety performance, but the innovative ways they have encouraged or promoted the benefits of safety and health to others in the industry.Some of these innovations include the:
• Safety Moment Application
• Safety Commitment and Challenge coins
• The HEROES Program
• The Job Safety Analysis Program
Total Safety was honored to receive 19 Star of Excellence Awards. The 19 Stars of Excellence went to Total Safety VPP Star Sites in Region VI which had injury rates below the Bureau of Labor Statistics (BLS) industry average by 90% or more. In fact, all Total Safety sites that received this prestigious award had injury rates 100% below the BLS average. The Voluntary Protection Programs Participants Association, a group of over 2,300 companies engaged with the VPP or otherwise interested in workplace health and safety, recently held its Region VI Conference in Oklahoma City, OK. At this gathering, companies received awards for exceptional health and safety performance. On hand to receive the award for Total Safety was Steve Long, Vice President Health, Safety and Environmental and James Taylor, Director Voluntary Protection Programs.
OSHA's Voluntary Protection Program
The Voluntary Protection Program is based on direct cooperation between facility leadership and OSHA to ensure a site or company presents a safe workplace for the long term. For an organization to be accepted, it has to have systems in place for hazard prevention, hazard control, worksite analysis, training, management commitment and worker involvement. The VPP started in California in 1979 and expanded over the years, becoming formalized in 1982 and expanding to federal as well as commercial sites in 1998.
Becoming and staying a recognized VPP participant is a rigorous process, and as long as a company keeps this status, it is exempt from the standard OSHA programmed inspections. A safety and health inspection team make a comprehensive check of a facility before welcoming an organization into the VPP. Those companies are reassessed every 3-5 years to ensure they are keeping up the high standards that got them inducted in the first place.
OSHA statistics show becoming part of VPP is beneficial from an overall safety perspective. Average organizations that are part of the program suffer 52% fewer Days Away Restricted or Transferred cases than overall industry averages. As sites commit to VPP practices and change their operations on the way to attaining official recognition, their injury and illness rates typically fall, powered by the effective new methodologies demanded by OSHA.
When organizations attain these new levels of safety and health performance, their bottom lines can improve accordingly. With fewer workers' compensation claims needed and employees able to give more healthy hours to their employers, companies are free to thrive. Furthermore, the practices pioneered at VPP organizations can go on to become industry standards, transforming whole sectors into safer places to work.
Being Recognized as a VPP Star Site
There are three levels of the VPP, and organizations progress through these stages as they become more attuned to safety and health measures. A Star Site has met the most stringent requirements, displaying excellent hazard prevention and control systems. The solutions in place at a Star Site have to include continuous improvement processes, highlighting the fact that being the best isn't just about keeping workers safe today, but also anticipating future needs.
Sites that haven't yet met all the requirements for Star status, but that are on their way, are named to the Merit program. These organizations have good safety and health performance, and have to take some additional steps to enter the ranks of the Star Sites. Demonstration Sites make up the third category. These facilities or worksites have safety or health programs that differ from Star Site norms, and let OSHA try out new ideas that may become more widely recognized in the future. Proactive safety at recognized locations sets VPP organizations apart.
Total Safety Continues to be a Leader in Industry HSE Performance
Companies that want to ensure their own facilities live up to high safety and health standards can bring in Total Safety as a partner to get the job done. As this latest group of awards demonstrates, we have shown an ability to ensure high-level safety performance at many types of sites and facilities, going above and beyond regulatory demands. Some of the VPP Star Sites are regional offices, while others are in-plant service centers at refineries around the region.
Keeping employees safe is a top priority for Total Safety, both within our own operations and in our work with clients. This latest group of awards is a welcome recognition of success in this area, as well as in promoting health and safety as corporate priorities.