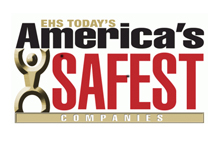 Total Safety, the world's leading integrated safety services company, today announced that it was one of eight companies selected as "America's Safest Companies" for 2012 by EHS Today, a publication that serves as a resource for safety, health and industrial hygiene professionals in the manufacturing, construction and service sectors.
To be chosen as one of America's Safest Companies, nominees had to demonstrate support from management and employee involvement in the company's safety and health program; provide innovative solutions to safety challenges; report injury and illness rates significantly lower than the average for their industries; support comprehensive training programs; believe that that prevention of incidents is the cornerstone of the safety process; have integrated safety into their corporate culture and communicate the value of safety to employees and customers; and substantiate the benefits of the safety process.
Accepting the award at the America's Safest Companies Conference that highlighted transformational safety leadership and safety panels from both industrial and regulatory experts, Paul Tyree, Total Safety chief operating officer, noted, "As a safety services company, we strive to develop best practices and innovative ideas that address even the toughest risk mitigation challenges within our clients' industries. I'm so proud of our team."
Total Safety believes that safety should be one of every company's top priorities and responsibilities. As with any sound investment companies may make, an investment in the safety and wellness of its employees — by providing necessary equipment and training, analyzing both historical and leading indicators, and always looking for ways to improve safety policies and procedures — is one that will pay off in both the near- and long-term.
"We are truly honored to receive EHS Today's 'America's Safest Companies' award. Our employees go to great lengths to uphold our mission 'to ensure the safe Wellbeing of Workers Worldwide,' and it is recognition, such as this, that reminds our employees that they are the ones continually raising the safety benchmark," said David Fanta, Total Safety president and chief executive officer.