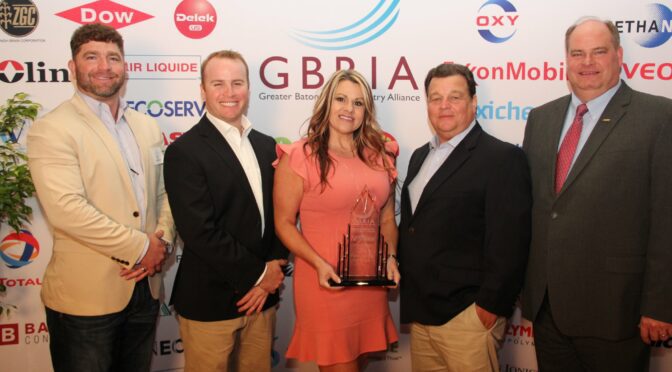 Total Safety was nominated by several customer sites for The Greater Baton Rouge Industry Alliance (GBRIA) Contractor Safety Excellence Awards.  Total Safety is honored to be recognized as a top performing safety company, and to receive 1st Place in the  Technical Support Catagory for  Div III / 5 Million+ man-hours.
Brandon M. Smith, CSP, Manager of Safety, Health, and Security, at Greater Baton Rouge Industry Alliance, Inc. (GBRIA), announced, "Total Safety finished 2018 with just over 6.5 million hours work with a 0.12 TRIR. Total Safety has 27 VPP Star Sites, which is a great achievement in and of itself. Total Safety uses a myriad of leading indicators to drive its safety programs and has worked to address Significant Injury and Fatality and reduce potential injuries by using comparative models of injuries to understand actual versus potential consequences."
Pictured L-R Stephen Smith – Area HSE Manager, Eric Murphy – Account Manager,  Tammy Hodack – Account Manager, Benny Ducote – IPSC Manager ExxonMobile, Baton Rouge, Tim Harris – GBRIA Board Vice-Chair & SHS Committee Co-Chair at Eastman Chemical Company
About the GBRIA:
The Greater Baton Rouge Industry Alliance (GBRIA) Safety Excellence Awards have been a staple in the Baton Rouge area since 1996. The awards banquet is an opportunity for GBRIA member sites to nominate those companies who've performed work in their facilities and committed themselves to nothing less than safety excellence in their operations. To be nominated for such an award is a great honor and a show of recognition of the great strides contractors have made to keep their workers safe and families whole. Learn more about the GBRIA Contractor Safety Excellence Awards.