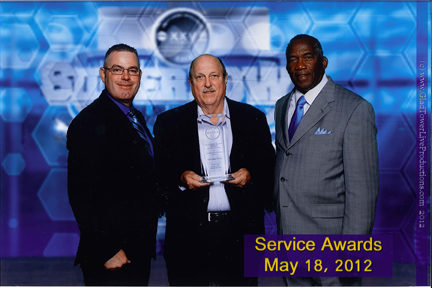 May 23, 2012 – Total Safety, a leading global safety services company, was honored by the Houston Business Roundtable as the "Best in Category" safety award from a field that included 134 companies across the award categories. The Houston Business Roundtable, whose membership consists primarily of refining, chemical and energy companies, held their 25th Annual Safety Awards banquet on Friday, May 18th, to present Safety Excellence awards to contractors. Total Safety won the honor in the "Technical Support – Large" category and was nominated by several customers.
"We are proud of the collective effort of the teams that have been recognized for their demonstrated expertise, dedication, and quality, and we are grateful for the support of our customers. This award is reflective of Total Safety's goal to be the best in the business and make every day a safe and productive one. We believe that taking care of our people and our customers' team members is truly a noble endeavor," said David Fanta, Total Safety's Chief Executive Officer.
Dave Myslenski, Vice President of Operations, noted, "We take the safety of our people and our customers very seriously – it's our focused mission. To be recognized by the Houston Business Roundtable and our customers is a testament to the safety values at the core of Total Safety."
The Houston Business Roundtable award comes on the heels of Total Safety earning 16 national and regional safety awards in 2011.
About Total Safety
Total Safety, a Warburg Pincus portfolio company based in Houston, Texas, is the world's premier outsourced provider of integrated safety and compliance solutions and the products necessary to support them. As the global safety solutions leader, Total Safety provides services and products to support: onsite safety, turnaround safety, gas detection, respiratory protection, rescue, safety training, fire protection, safety compliance and inspection, industrial hygiene, onsite emergency medical treatment/paramedics, communications systems, engineered systems design, and materials management. It operates from more than 134 locations in 18 countries to ensure the safe Wellbeing of Workers Worldwide (W3).
For additional information and inquiries, contact:
Stenning Schueppert
Vice President – Strategy, Marketing & Corporate Development, Total Safety
713-353-7182