By Chuck Gibson, VPP Manager, Total Safety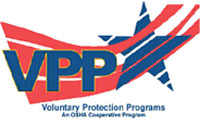 Preparing for and attaining certification in the OSHA Voluntary Protection Programs (VPP) can sometimes seem to be a confusing and overwhelming task, particularly for companies that do not have mature safety and health management systems already in place. To help, OSHA has developed a program for companies that are interested in improving their safety and health management systems and potentially participating in VPP, but may need assistance in understanding and meeting VPP requirements. The Challenge Program provides a comprehensive self-paced, three-stage roadmap that leads to improved safety and health management systems and preparation for VPP application.
Challenge is open to General Industry and Construction employers (determined by SIC/NAICS code) in both public and private sectors under OSHA federal jurisdiction. The Program is facilitated by OSHA-designated Administrators who may be corporations, nonprofit organizations or federal agencies. The Administrators act as the primary contact between OSHA and the Challenge Participant, and guide the Participant through the program stages. At the completion of each stage, the Administrator will review the participant's progress and authorize advancement to the next stage.  OSHA will formally recognize progression from stage to stage and issue a certificate of graduation upon completion of Stage III. Provided it meets basic criteria, such as mishap rates and citation history, an organization should be ready to submit a VPP application following graduation, and may be considered for expedited review for certification.
To become a Challenge Participate, a candidate organization must first affiliate with an Administrator. A list of Administrators is available on the OSHA website or by calling your local OSHA office. The candidate organization completes an application and statement of commitment that is reviewed by OSHA, and upon acceptance, is designated an OSHA Challenge Participant. The Participant then proceeds through three progressive stages of safety and health program improvement with specific action and outcome requirements related to the VPP elements; management leadership and employee involvement, worksite analysis, hazard prevention and control, and safety and health training. As the Participant organization works through the stages, it will change from being reactive to proactive in identifying and controlling hazards. Additionally, it will progress in knowledge of and compliance with OSHA standards, develop an improved workplace safety culture, have improved documentation, increase safety and health activities, and show improvements in injury and illness rates. Documentation of achievements is required and progress is tracked on an electronic spreadsheet that provides color-coded status on each action and outcome item and a percentage completion level for the current stage.
The beauty of Challenge is the step by step guidance and direction it provides for improving a safety and health management system. The required actions and outcomes for each sub-element in each stage eliminate the guesswork of "what do I do next" for Participants. The status tracking sheet provides a visual and easy to understand tool to chart program progress. Even for organizations that consider their safety and health management systems more mature, Challenge tools and guidelines provide utility in confirming that necessary program elements are in place and functioning effectively. Go online and look at the list of Challenge Participants. It should come as no surprise that the list includes OSHA regional and area offices that are striving to become VPP certified themselves. So follow the lead of the experts. If you think your organization is not quite ready for VPP don't be troubled – take the OSHA Challenge and travel the road to improved safety and health.
For more ideas on ways to increase occupational health and safety in your workplace, call us at 888.44.TOTAL.
Total Safety – The Best Minds in the Business!