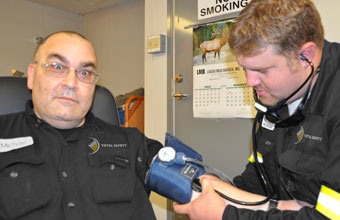 Medical Management Services
Because every location requires both consistency and adaptability, Total Safety has created a unique, flexible model that can be adapted to fit each client, site, worker and location. Even remote locations are not a problem. Total Safety provides you with highly trained medical providers, medical packages and services tailored to fill in any service gaps.
Our paramedics are cross-trained in industrial safety, occupational health and advanced clinical skills with proven skill sets in:
Advanced Cardiac Life Support (ACLS)
Advanced practice education
12-lead cardiac monitors
Pre-hospital trauma life support
Nationally registered paramedics
Safety in drilling programs
Custom medical packages
Advanced cardiac treatment
Case management
In-house and web-based training
Reporting and compliance
Common illness management
Monitor health and sanitation on site
Wellness and prevention programs
Medication therapy
USCG and MMS audits
Expert occupational treatment
24/7 physician support
Infection control plans
Emergency response plans
On-site education and training
Diving Medical Technicians (DMTs)
Learn more about Total Safety's complete line of medical management services.
Services may vary by region. Please contact your salesperson to discuss offerings in your area.