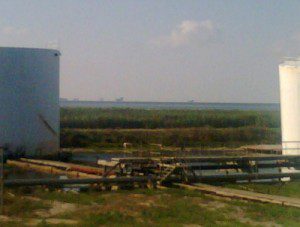 By Mandy Sunderland, Senior Industrial Hygienist
Pipeline accidents and fatalities have been on the rise, jumping from nine in 2008 to 22 in 2010, according to the U.S. Department of Transportation.  There is a growing recognition that America's aging oil and gas infrastructure may be playing a part in this increase.
Major overhauls may be required to prevent events such as the September 9, 2010, natural-gas explosion that devastated a neighborhood in Northern California. In this case, a 50 year old pipeline ruptured at a defective seam weld and the ensuing explosion killed eight people and destroyed 38 homes.
U.S. Transportation Secretary Ray LaHood announced in early April 2011 an initiative to repair and replace the nation's pipelines. Texas alone has about 16% of the nation's gas transmission lines and more than half of these lines were laid more than 40 years ago, which makes them more vulnerable to failure. In Texas, there are roughly 46,000 miles of gas transmission lines that pipeline employees must cover on a regular basis. The increased activity to support the anticipated pipeline repair and replacement initiative will require a large number of people working together to conduct repairs that present significant exposure potential to hazardous activities not encountered during normal operations.
Given the nature of the business, exposure monitoring in pipeline operations presents some real logistical challenges, and it may be hard to conduct monitoring in a cost effective manner. As these projects become more numerous, the regular work force may be unable to handle the increased load, and thus, less experienced workers may be used, which presents additional hazard potential.
Potential risks may include exposures to acetone, and alkylates, to benzene, butadiene, hydrogen sulfide and kerosene depending on your operations.  Exposures may be encountered during pipeline activities and by tanker, rail car, ship and barge operations.
As we all know, a Work Place Exposure Assessment (WEA) is at the heart of any successful industrial hygiene program.  A comprehensive WEA takes a fresh look at tasks, materials, exposure potential and controls through a systematic approach and associated process. It results in a clearly prioritized list of actions that help ensure the well being of workers. Along with reducing incidents, benefits include reduced liability, increased productivity and safety awareness, and conformance with regulations and industry standards.
A facility without a current WEA may sample unnecessary materials, bringing with it a false sense of security. This can occur when changes in operations, processes or materials are not recognized and evaluated. A well conducted WEA will identify the necessary medical surveillance and training, as well as the specific control equipment and personal protective equipment that are suited to the specific pipeline maintenance task and the non-routine exposures that might occur during replacement or renovation. Most companies recognize the benefits of conducting WEAs, but when it comes to pipeline operations, completing the process sometimes slips off the radar, partially due to the highly mobile and dispersed work force. While it is tempting to put WEAs on 'the back burner' during business planning and budgeting, this can be a costly and even a deadly mistake.
Since 2002, the DOT has been required by law to identify the highest risk lines and mandate repairs.  So this might be you!  So hear it through the pipeline and complete your WEA ASAP to avoid potential risk, reduce your liability and increase employee safety and morale on the job!
If you would like additional information regarding Work Place Exposure Assessments or creating a custom industrial hygiene program, call us at 888.44.TOTAL or email us.
Total Safety – The Best Minds in the Business!