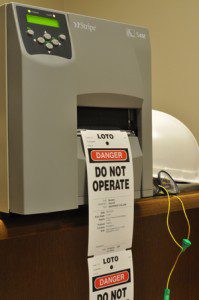 March 21, 2012 – Total Safety, the leading global industrial safety services company based in Houston, Texas, has partnered with Application Factory to become their exclusive distributor for DangerTags Lockout/Tagout (LOTO) Automation System, a proprietary lockout/tagout software and hardware system that allows for the automation of the lockout/tagout process.
"We are excited to be able to offer this unique and advanced solution to our refining, petrochemical, and all our other industrial and energy customers and look forward to introducing it at the upcoming OSHA Voluntary Protection Program (VPP) and American Fuel & Petrochemical Manufacturers (AFPM) conferences in the coming months," noted Mark Barker, vice president of global sales at Total Safety.
The DangerTags LOTO Automation System is Web-based, WiFi-enabled Windows® compatible lockout/tagout software designed to increase efficiency in creating complete and accurate lockout/tagout packages that include tags, field lists and associated documents, to help companies meet OSHA safety requirements by reducing lockout/tagout inconsistencies caused by manual processes and handwritten tags.
The DangerTags LOTO Automation System allows for the effective and efficient management of OSHA lockout/tagout compliance concerns. The system eliminates the opportunity for inadvertent or unapproved changes to lockout/tagout procedures through security controlled access for two distinct user groups: day-to-day users and administrative users.
Day-to-day users have everything they need to efficiently perform energy isolation duties but cannot alter procedures. Administrative users are given powerful data management tools and full rights to define and alter energy isolation procedures. The DangerTags application, used to its fullest extent, helps fulfill all of the requirements of the CFR 29 Section 1910.147 by putting in place an energy control program that enforces corporate standards, documents processes, prints OSHA compliant lockout/tagout tags and automatically generates reports for periodic reviews and audits.
About Total Safety
Total Safety, a Warburg Pincus portfolio company based in Houston, Texas, is the world's premier outsourced provider of integrated safety and compliance solutions and the products necessary to support them. As the global safety solutions leader, Total Safety provides services and products to support: onsite safety, turnaround safety, gas detection, respiratory protection, rescue, safety training, fire protection, safety compliance and inspection, industrial hygiene, onsite emergency medical treatment/paramedics, communications systems, engineered system design and materials management. It operates from more than 134 locations in 18 countries to ensure the safe Wellbeing of Workers Worldwide (W3).
About Application Factory
Application Factory, Inc. is a software development firm providing custom and packaged solutions to Fortune 500 petrochemical companies.
For additional information and inquiries, contact:
Stenning Schueppert
Vice President – Strategy & Corporate Development, Total Safety
713-353-7182
Keith Davis
President, Application Factory
800-839-1645