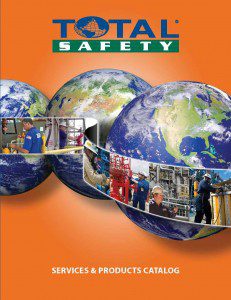 Total Safety, the leading global provider of integrated safety solutions and services, announces the release of its new services and products catalog. Current with industry trends, the catalog presents the latest industrial safety services and equipment and keeps customers outfitted with the best the market has to offer.
State-of-the-Art Safety Equipment and Services
Featuring a range of safety equipment — from the tried-and-true to the latest-and-greatest — Total Safety's catalog is designed to give the reader a glimpse at equipment and services that are geared towards keeping their workers, community and environment safe.
The catalog features eight sections of safety equipment for rent and/or purchase, including:
Respiratory Protection
Gas Detection
Fire Protection
Communications
Fall Protection
Safety
Marine Specialties
Specialty
"Customers can shop a wide range of equipment for rent or purchase and be assured that they are serviced by a company who will stand behind it, " emphasizes Mark Barker, Total Safety vice president of global sales. "In addition, we offer in-house certified technicians, materials management services and more to support that equipment and keep workers safe."
Readers will find a section dedicated to Total Safety's comprehensive services. "We wanted this catalog to not only be a quick highlight of the equipment we offer, but we wanted to showcase what makes us the best in the industry — our people. Our people are trained experts in their field and provide top-notch safety services that keep people and the environment safe globally," said Charles Ripoll, Total Safety executive vice president of marketing and business development.
Total Safety collaborated with Marion Interactive to manage the new catalog's concept, development, electronic production and printing. Marion Interactive has been a long term partner of Total Safety, and also designed and manages the Total Safety website. In addition, Marion Interactive developed and programmed the technology for the online catalog. "It takes writers, designers, programmers and a creative design team to build a product like this, and all must work closely with Total Safety sales, procurement, and marketing staff," said Marion Interactive CEO Aaron Ellisor. "Great communication between client and supplier is key to success."
Catalogs can be ordered by calling 888-448-6825 or online at totalsafety.com.
Online Catalog
Total Safety is updating the online version of its catalog to give clients easier access to the rental or purchase of safety equipment.