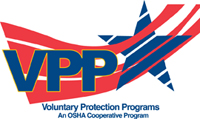 Total Safety, a leading global safety services company, announced that its Valero-Texas City location has been awarded the Occupational Safety and Health Administration's ("OSHA") prestigious Voluntary Protection Program ("VPP") Star Certification for safety excellence in the workplace. This is the fifth such award for Total Safety.
OSHA's VPP recognizes employers and workers in the private industry and federal agencies who have implemented effective safety and health management systems and maintained injury and illness rates below national Bureau of Labor Statistics averages for their respective industries. VPP Star certification recognizes the outstanding efforts of employees and managers who have achieved exemplary safety and health management systems (SHMS). Safety is a core value throughout the Total Safety organization and is practiced each and every day at all facilities.
"The OSHA VPP star certification is truly an honor. This recognition demonstrates the commitment of our staff to both their own safety and the safety of others," said Chuck Gibson, Total Safety's VPP Director. "They should be congratulated for their attention to workplace safety."
With more than 20 other sites currently in the review process, Total Safety strives for Star Certification at additional locations within the next few years.
Ellis Pellerin, Total Safety's Health, Safety & Environment (HSE) Director, added, "Outstanding teamwork leads to safety success, and the Total Safety team is dedicated to be the very best."
In addition to the OSHA honor, Total Safety has received the "Best in Class" award from the Houston Business Roundtable, AFPM Awards, and a host of industry and customer safety accolades.