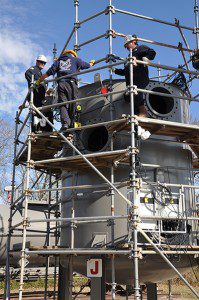 Total Safety, the world's leading integrated safety services company, announced that its Centralized Confined Space Monitoring System has been tested and evaluated by the Texas A&M Engineering Extension Service Product Development Center ("TEEX PDC") at TEEX's Emergency Services Training Institute to verify compliance with the current interpretation of Occupational Safety and Health Administration's 29 CFR 1910.146. The patent-pending system from Z-Systems, already successfully deployed in Europe, will likely serve as a further supplement to existing confined space safety operations.
Total Safety's exclusively-licensed Centralized Confined Space Monitoring System utilizes a central control center that continuously identifies workers within permit-required confined spaces; maintains visual contact and a clear line of two-way communication with workers inside and outside the permit space; monitors the atmosphere of the permit space for toxic or dangerous gases; and sounds appropriate alarms if an incident occurs.
Total Safety engaged TEEX PDC to review and provide an independent third-party evaluation, and to coordinate and document operational tests utilizing the parameters of TEEX TESTED®. The TEEX PDC TESTED trademark ensures products or technologies entering the marketplace perform reliably with integrity and durability, as intended, under acceptable, repeatable real-world conditions.
About Total Safety
Total Safety, a Warburg Pincus portfolio company, is the world's premier provider of integrated compliance, personnel and professional safety solutions and the products necessary to support them. It operates from 141 locations in 19 countries to ensure the safe Wellbeing of Workers Worldwide (W3). For more information about Total Safety, visit www.totalsafety.com.
About TEEX PDC
Texas A&M Engineering Extension Service Product Development Center (TEEX PDC) leverages engineering expertise, experienced market analysts along with realworld laboratories and facilities to ensure technology stays on the path to commercialization. TEEX PDC can develop methodologies, recruit subject matter experts, and develop partnerships to assess, test and evaluate products. It provides unbiased assessments to help develop and test products, as well as deliver it to market.