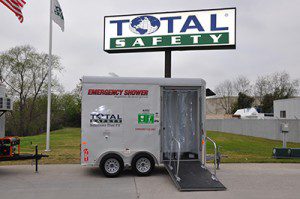 Ideal for remote locations, Total Safety's mobile decontamination shower trailers provide workers with access to ANSI-compliant emergency eyewash and shower stations to flush hazardous materials from the eyes and/or body.
Built tough for climates with extreme weather, Total Safety's cooling and heating trailers give workers access to climate-controlled trailers, ideal for conducting meetings, providing safety and first aid, and more. In addition, Total Safety offers intrinsically-safe cooling trailers equipped with misting fans to reduce the ambient air temperature, keeping body temperatures stable and preventing heat illness.
The Occupational Safety and Health Administration (OSHA) requires suitable facilities within the work area to protect the health and safety of workers—and for good reason. "Prolonged exposure to high-heat or freezing climates may cause serious health problems, and depending upon th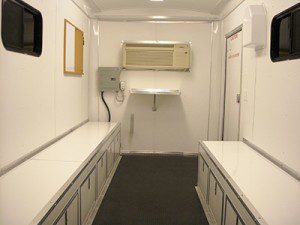 e conditions, it can happen in a relatively quick amount of time if precautions are not taken," says Kraig Knight of Remote Safety Recovery Systems.
About Total Safety                                                                   
Total Safety is the world's premier provider of integrated safety and compliance solutions and the products necessary to support them, including gas detection, respiratory protection, safety training, fire protection, compliance and inspection, industrial hygiene, onsite emergency medical treatment/paramedics, communications systems, engineered systems design, and materials management. It operates from 141 locations in 19 countries W3  …to ensure the safe Wellbeing of Workers Worldwide.
Total Safety has been selected as one of "America's Safest Companies" for 2012 & 2018 by EHS Today, in addition to receiving the "Best in Class" award from the Houston Business Roundtable, multiple AFPM Awards, and a host of industry and customer safety accolades. For more information about Total Safety and its unwavering commitment to safety, visit www.totalsafety.com.
About Remote Safety Recovery Systems
Remote Safety Recovery Systems provides mobile safety trailers and systems to support construction, timber, agriculture, oil and gas, and other outdoor industries that are exposed to hazardous chemicals, as well as inclement weather.