Camarillo, CA and Houston, TX—April 2, 2013—SAFER Systems and Total Safety, the worlds' leading provider of industrial safety services and equipment, today announced that they formed a partnership to incorporate SAFER's emergency response software into  Total Safety's emergency response and contingency planning service offerings.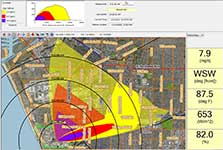 The emergency response software from SAFER Systems provides automated solutions for incident management focused on protecting lives in the face of chemical accidents. Coupled with strategically-placed chemical and meteorological sensors, the software allows incident commanders to respond to emergencies faster, more accurately, and in real-time with data provided by live plume models, release-rate estimations, meteorological data, and so much more.
Ionel Nechiti, President of SAFER Systems, said, "We are very excited to be working with Total Safety as they are a leader in providing emergency response equipment and personnel and we feel our organizations complement each other. This partnership will ensure that when first responders get the call to respond to a chemical emergency, our software solutions will help keep them and the affected citizens safe."
"Our strategic partnership with SAFER Systems will allow Total Safety to enhance its current Emergency Response Services, especially in areas such as industrial hygiene, by providing our clients with the resources that they need to ensure emergency preparedness and the safety of their workers, the environment and the community," says Randy Patton, Total Safety Vice President – Technical Services.
About Total Safety
Total Safety, a Warburg Pincus portfolio company, is the world's premier provider of integrated safety and compliance solutions and the products necessary to support them, including gas detection, respiratory protection, safety training, fire protection, compliance and inspection, industrial hygiene, onsite emergency medical treatment/paramedics, communications systems, engineered systems design, and materials management. It operates from 141 locations in 19 countries to ensure the safe Wellbeing of Workers Worldwide (W3).
Total Safety has been selected as one of "America's Safest Companies" for 2012 by EHS Today, in addition to receiving the "Best in Class" award from the Houston Business Roundtable, multiple AFPM Awards, and a host of industry and customer safety accolades. For more information about Total Safety and its unwavering commitment to safety, visit www.totalsafety.com.
About SAFER Systems
Established in 1981, and celebrating over 30 years of providing technological advancements in the field of chemical emergency management to both industry and government, SAFER Systems is the global technology leader in chemical emergency management solutions. The company's state-of-the-art solutions, incorporating patented technologies, are designed to detect and accurately predict in real-time the dispersion of accidental or intentional releases of hazardous chemicals. Using a SAFER Systems' solution, companies worldwide that manufacture, process, store or transport hazardous materials plus an array of government emergency management, environmental protection and homeland security agencies, can now better prepare for and quickly determine the best ways to respond to an actual chemical emergency.  For more information, visit www.safersystem.com.
For additional information contact:
Ian Adler – SAFER Systems
281-397-3939
Stenning Schueppert
Senior Vice President – Strategy, Marketing & Corporate Development, Total Safety
713-353-7182