November 6, 2013—Houston, TX—Total Safety has been recognized as the Operational Consultancy of the Year by the Oil & Gas Awards. The award demonstrates and celebrates advances made in key areas of environmental stewardship, efficiency, innovation, corporate social responsibility, health and safety.
Total Safety recently achieved two million non-recordable hours in its Fire Services team and one million in its European division.  These efforts help define and support Total Safety's commitment to a strong safety culture.
In addition, the company has VPP-Star status at seven locations, with twenty-eight additional locations in the process of preparing for VPP Star status.  VPP sites evolve into models of excellence and influence practices industry-wide. VPP is an OSHA-sponsored volunteer program, promoting effective worksite-based safety and health.
The Oil & Gas Awards recognize outstanding achievement made within the upstream and midstream sectors of the oil gas industry. They are nominated and judged by a panel of oilfield service employees, community stakeholders, independent experts, and respected industry veterans.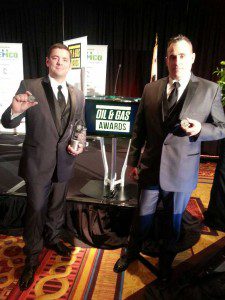 About Total Safety
Total Safety, a Warburg Pincus portfolio company, is the world's premier provider of integrated safety and compliance services and the products necessary to support them, including gas detection, respiratory protection, safety training, fire protection, compliance and inspection, industrial hygiene, onsite emergency medical treatment/paramedics, communications systems, engineered systems design, and materials management. It operates from 142 locations in 20 countries to ensure the safe Wellbeing of Workers Worldwide (W3). For more information about Total Safety and its unwavering commitment to safety, visit www.totalsafety.com.
For additional information, contact:
Cindy Landers, Media Relations
Office 713.353.7167