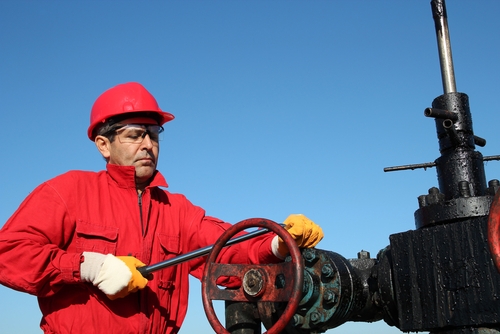 After years of unprecedented growth, oil production within the U.S. is starting to decline. The country's production of shale oil in particular has drastically cut the price of a barrel of oil. According to Reuters, oil now costs $42 a barrel. This represents a six-and-a-half year low point, and as a result the oil industry has had to cut jobs and spending.
In light of the latest round of cuts, oil drillers are actually adding rigs. Oilfield services company Baker Hughes reported two oil rigs were added during the weekend ending Aug. 14, according to Reuters. The Wall Street Journal subsequently said this was the fourth straight week the oil rig count increased.
The Wall Street Journal reported the addition of rigs comes at a turbulent time for the oil industry. Prior to the slight expansion, oil rig count had sharply decreased because in the last 14 months the price for a barrel of oil has steeply declined. The newspaper listed a handful of reasons as to why prices have fallen, ranging from a strong dollar to concerns on the global economic market.
The rig count is also interesting, because compared to one year ago, the total number of rigs in operation is fewer by 1,029. Specifically, oil rigs have decreased by 917, whereas gas rigs number 110 fewer.
Highs and lows of oil
The current worries surround the industry arrive after years of positivity. Due to new technology and drilling methods, operators quickly increased oil production in key parts of the country. Regions throughout Texas and North Dakota contributed to the boom. According to National Geographic, this increase in production can specifically be referred to as the shale oil boom.
Shale oil is extracted from a sedimentary rock rich in kerogen. A new method known as hydraulic fracturing unveiled oil reserves previously inaccessible. Production levels have risen approximately 9 million barrels a day, according to U.S. Energy Information Administration. The National Geographic said this level of activity hasn't been seen since the 1970s. These numbers were just shy of Saudi Arabia's production, which was recorded at 9.6 million barrels a day.
"Production levels have risen approximately 9 million barrels a day."
In addition to a stronger dollar, oil production has declined because of an increasing surplus of domestic oil, as the country's import of foreign oil has continuously dropped since 2005. Other factors, such as personal preference and federal mandates, have reduced the amount of oil used. For instance, the fuel efficiency of automobiles keeps improving, and by 2025 automobiles will be required to have a 54.5 miles per gallon rating, according a White House statement. As more vehicles adopt these standards, in addition to further releases of electric cars, fuel demands may continue to decline.
Why rig counts have increased
It may seem odd that rig counts are therefore increasing at a time when the industry price is declining, according to MarketWatch. James Williams, an economist at WTRG Economics explained this current trend in an interview with the publication.
"The recent increase in rig counts is due to prices two months ago," said Williams. "There's always a lag between price changes and drilling activity."
As a result, it may be some time before rig counts decrease to reflect the current price of oil. Whatever the number of rigs currently in operation, drilling companies and operators have to take safety seriously, due in part to the numerous activities and equipment involved.
Oil rig safety, and in particular, fracking, are important to keep in mind because accidents on oil rigs can take a turn for the worst. Fall safety is a top priority if working at high elevation, and rig operators should ensure fall protection equipment is inspected regularly, ideally before and after every use. In addition to proper inspection, custom fall protection systems can make a rig safer to work on.
As a result of its recent adoption, the side effects and hazardous conditions involved with fracking are still being analyzed and discovered. However, the Occupational Safety and Health Administration, in conjunction with the National Institute for Occupational Safety and Health, said the process "involves pumping large volumes of water and sand into a well at high pressure to fracture shale and other tight formations, allowing oil and gas to flow into the well."
"The side effects from fracking are still being analyzed."
Workers engaged in this process may expose themselves to high levels of respirable crystalline silica. Silica sand is used in the fracking process to help with the drilling process, and OSHA noted Driller operators who intake high levels of silica are increasing their risk of developing the lung disease silicosis.
Employees are subsequently exposed to silica dust from a variety of sources throughout fracking, including but not limited to:
Vehicles generating dust
Dust from the transfer belt
Dust from when the sand is dropped into the blender hopper
Dust released from the transfer belts and blender
To help limit dust intake, workers who take part in fracking should wear respiratory equipment. OSHA also recommended employers identify work practices, engineering controls and product substitution as possible methods to reduce silica dust exposure.
With some uncertainty surrounding future oil rig counts and oil production, operators and workers cannot relax on safety procedures. Due to new technology, fracking has become widely used and some of the drilling method's risks are still being discovered. With the proper equipment and safety training, drillers and any other employees on-site will stay safe.