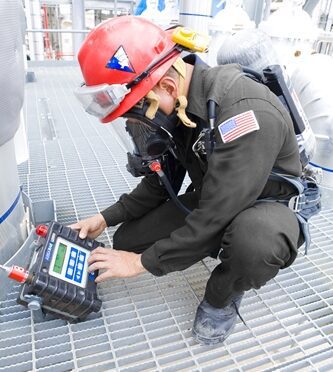 The Occupational Safety and Health Administration fined a drilling technology company more than $2,000 in potential fines after a month-long investigation revealed workers had been exposed to chemical hazards.
OSHA began looking into operations at the facility after a large fire erupted in August with flames more than 100 feet high. During the blaze, a shelter-in-place warning was instituted in a 2-mile radius around the site, which is used in the production of sealants, shale inhibitors and lubricants for the oil industry.
While officials are still investigating the cause of the fire, the OSHA investigation concluded with $2,400 in citations against the company for safety violations predating the fire and relating to chemical exposure and improper care of respiratory protection equipment.
OSHA regulations require written statements from a doctor regarding an employee's ability to use a respirator. After employees have been examined and received doctor recommendations, companies are then required to provide each worker with a fitted respirator. Additionally, workers must be refitted for respirators every year.
According to the OSHA citations, the drilling company did not provide medical evaluations necessary to obtain doctor recommendations for respirator use. Additionally, the respirators that were provided to workers were not fit-tested and were actually a discontinued model.
OSHA issues additional respirator-related citations
The federal agency also fined a New Jersey medical supply firm $181,500 in potential fines for violations including improper storage of respirators. As reported by Business Insurance, the New Jersey company was inspected as part of an OSHA initiative targeting industries with high injury and illness rates.
OSHA determined the medical supply firm had failed to properly protect workers against chemical or acidic hazards, and issued nine serious violations, one willful citation and 10 repeated violations.
Additionally, an Illinois-based roofing contractor and subcontractor are facing more than $70,000 in potential fees including serious violations for failing to provide respirator training and failure to fit-test respirators for employees working with asbestos hazards. According to the citations, workers were exposed to dry sweeping of dust and debris containing asbestos in concentrations that exceeded permissible exposure limits.
The importance of respirator safety
According to OSHA, there are an estimated 5 million U.S. workers required to wear respirators for protection against hazards including insufficient oxygen and harmful dusts or vapors. In addition to immediate dangers, the OSHA regulations are designed to protect workers against the long-term effects of inflation of hazardous materials, including cancer and other lung ailments.
As reported by International Safety and Hygiene News, OSHA fined employers $1,746,465 for respiratory protection violations in fiscal year 2013 for a total of 2,774 citations. The respiratory protection standard was the fourth-most frequently cited OSHA violation that year behind fall protection, hazard communication and scaffolding.
"The respiratory protection standard was the fourth most frequently cited OSHA violation."
According to a report from Safety + Health Magazine, new respiratory protection technologies are being advocated by safety experts as a way to increase compliance with OSHA regulations. These new technologies include rechargeable lithium-ion batteries, smaller circuit boards, increased fog resistance for face pieces and lightweight materials such as carbon fiber, all of which are intended to make respirators more effective, comfortable and user friendly.
The publication noted one common misstep for many organizations is failing to implement or enforce a written respiratory protection program, which can often lead to equipment misuse or neglect. According to a respiratory product manager who spoke with the magazine, companies often distribute respirators without having a training or fitting program in place, which results in OSHA violations as well as increased risk for employees. Respirators are not one size fits all, and failing to have the devices fitted to individual employees greatly reduces their effectiveness.
Failing to have respiratory equipment inspected can also lead to OSHA violations, Safety + Health reported. Experts speaking with the publication recommended companies enforce a regular service schedule to optimize equipment performance. These inspections will ensure respirators are properly fitted for employees and have the correct air source with air pressure and flow still meeting the manufacturer's specifications.