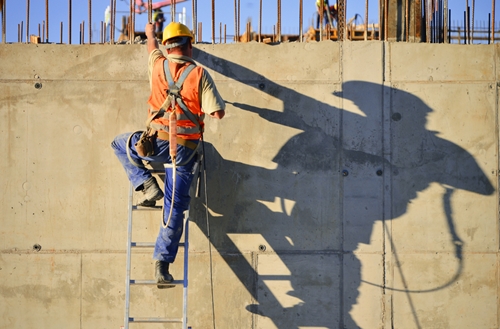 A report from the U.S. Bureau of Labor Statistics found the number of workplace fatalities in the United States increased in 2014 to the highest levels since in six years.
According to the latest Census of Fatal Occupational Injuries, the total number of fatal work injuries in the U.S. in 2014 was 4,821, more than was estimated in the preliminary count released in September 2015. This is also the highest annual total since seen 2008.
The overall fatal work injury rate in 2014 was 3.4 fatal injuries per 100,000 full-time equivalent workers, a slight uptick from the 3.3 injury rate reported in the 2013 census. This is the first time the overall rate has increased since 2010.
"Several industries had the highest number of fatal work injuries seen in several years."
The census, which has been updated since its preliminary report released last year, showed several industries having the highest number of fatal work injuries seen in several years. The private construction industry had a total of 899 fatal work injuries in 2014, the highest numbers seen since 2008. Private mining, quarrying, and oil and gas extraction reported 183 fatalities, the largest amount since 2007. Oil and gas extraction industries alone saw 144 deaths, the most ever recorded in a single year.
Additionally, the census showed a sharp increase in the number of fatal injuries for workers age 55 and over. This age group accounted for 1,691 fatal injuries, the largest number ever recorded for this demographic. The number of fatal falls, slips and trips was also significant, accounting for 818 cases.
Employers aiming to increase workplace safety and reduce the number of accidents can take advantage of awareness campaigns offered by federal safety organizations.
How to factor aging into a safe workplace
The BLS has estimated that one in every five American workers is over age 65, and by 2020, one in every four workers will be over 55. As the demographics of the U.S. workplace shift, the Centers for Disease Control and Prevention cautioned it will become critical for employers to factor aging into workplace safety to prevent injuries from occurring among this group.
The CDC offers several resources for employers through its Productive Aging program. The campaign provides guidelines on how to help workers to function optimally at all ages, thus reducing injuries and sick days and increasing productivity and safety.
CDC recommendations center around four basic areas:
Working conditions, defined as the industrial hygiene and safety of the facility.
Employee health, which may include preventive screenings and wellness programs.
Professional skills, including ongoing job-related training and skill development.
Psychosocial factors, which relates to the social support and culture of the workplace, including flexibility in scheduling or paid leave.
Employers should conduct an organizational assessment for each of these areas, the CDC advised. Programs can then be implemented to prevent injuries by incorporating flexibility and management of these key areas into the workplace culture. The CDC noted that occupational safety and health programs, while existing in most work places, are often compartmentalized or functioned independently from one another. Integrating the programs throughout the workplace and increasing coordination between them will reduce the risks older employees face.
Preventing falls in construction
Employers evaluating and reducing risks associated with slips, trips and falls can access timely resources from the Occupational Safety and Health Administration. OSHA will hold its National Fall Prevention Stand-Down campaign from May 2-6, which will offer key information about preventing falls, trips and slips in private construction. As the Census of Fatal Occupational Injuries underscored, fatalities caused by falls from elevation continue to be a leading cause of death for construction workers.
"The National Fall Prevention Stand-Down campaign offers resources to prevent fall fatalities."
The program is open to any workplace that wishes to participate, but often includes commercial construction companies, as well as residential construction contractors, sub- and independent contractors, general industry employers, trade associations, unions and many more groups.
OSHA offers an online toolbox employers can access to use at their own Stand-Down event, where they can review the importance of fall prevention with workers. Other activities held during a Stand-Down may include conducting safety equipment inspections, developing rescue plans or discussing job specific hazards. Worksites that participate in the event will be able to download and display a certificate of participation signed by Labor Secretary Thomas E. Perez.