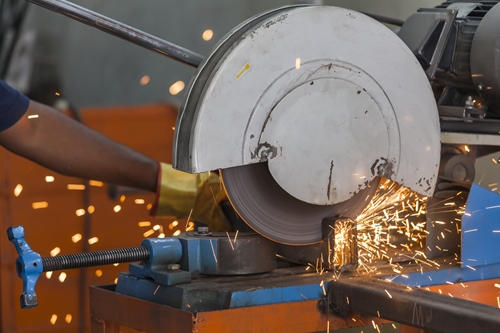 The U.S. Occupational Safety and Health Administration is making a concerted push throughout Region VI states (Arkansas, Louisiana, Oklahoma and Texas) to inform manufacturing workers of amputation hazards. This new initiative kicked off in November and emphasizes how the regulatory agency intends to minimize future workplace accidents leading to amputation.
The numbers behind amputations
According to the safety agency, employers reported 2,600 amputations in 2015, with 57 percent of amputations affecting manufacturing workers. OSHA stated amputations typically occur when workers operate dangerous machinery without safety guards in place and how amputations caused 1,400 serious injuries while on site.
OSHA is launching this new campaign to hold employers accountable and ensure regulations are being enforced.
In a statement, Kelly Knighton, regional administrator at OSHA, said the focus on amputation prevention showcases the need for safety at work sites.
"We can only hope that the focus on this issue will reduce the potential for continued worker exposure to unguarded machines and equipment," said Knighton.
Preventing amputations through enforcement
OSHA has always provided guidelines to prevent amputations, but this announcement represents a renewed focus on this issue. Its new safety initiative will start with a targeted enforcement phase. OSHA will review employers and work sites where heavy machinery is present.
Additionally, federal safety and health inspectors will evaluate site operations, safety conditions and recordkeeping. OSHA said it would examine health and safety programs to ensure employers comply.
What constitutes hazardous equipment?
There are no secrets surrounding the severity of amputations. According to an official OSHA factsheet, these injuries typically occur when employees operate unguarded and/or inadequately safeguarded mechanical equipment. All employees will need to keep in mind that all mechanical motions and moving parts are potentially devastating. These are the components that rotate or move while a machine is on.
Hazardous equipment includes:
Meat grinders
Printing presses
Power press brakes
Food slicers
Milling machines
Non-powered conveyors
Those machines are dangerous because they utilize one of the following perilous mechanical motions:
Cutting
Shearing
Reciprocating (Back and forth, up and down movement)
Transversing (Straight, continuous line movement)
Rotating
Workers are also at risk for serious injuries if they help maintain stationary machinery. Employees need to be careful if they perform one of the following tasks:
Setting up a machine
Threading
Preparing
Adjusting
Lubricating
Cleaning
Existing safeguards
Every employee should recognize and manage hazards at work sites. Employers need to ensure a comprehensive safety program is in place while providing periodic training seminars. Administrative oversight can also help prevent serious injuries.
Two further lines of defense are guards and devices.
Guards are physical barriers that close off hazardous areas. Employees should be unable to remove or bypass guards that are secure.
"Two important lines of defense are guards and devices."
Devices' main functions are to prohibit contact with points of operation. Devices can be thought of as a supplement to guards because they can impede a machine's normal cycle. Devices help prevent serious injuries from happening if an operator approaches a machine during cycles.
Most manufacturers build safeguards into their machines, but that shouldn't stop employers from exceeding bare-minimum safety requirements. These safety procedures, along with lockout/tagout practices, will help reduce the risk of amputations.
All employers should review Title 29 of the Code of Federal Regulations for more information about protecting workers from amputations.
OSHA's launch of a new safety campaign about amputation prevention is a reminder of hazardous workplace conditions. While the agency is focusing on one particular district, every employer needs to comply with existing safety standards to reduce the number of amputations.