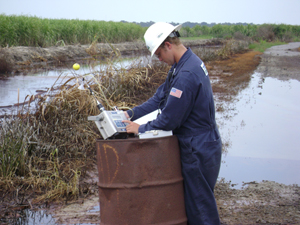 By Lisa Browning, Training Coordinator
The time is now! Plan for how your facility will conduct emergency response industrial hygiene (IH) monitoring. What should you be looking for in a provider of this service? Because of the unique challenges surrounding emergency response IH monitoring, choose a provider that is able to develop written protocols/procedures, to deploy teams and equipment  quickly, to provide experienced/knowledgeable personnel, quality support staff, and can adapt to ever changing conditions. Some of the more challenging issues arising specific to IH monitoring include but are not limited to mobility, flexibility, proper equipment, documentation, reporting, and site specific training.
Developing written protocols/procedures has to occur first. The protocols set the applicable exposure levels, alarm levels and actions including deployment of respiratory protection, establishment of safe zones, evacuation, shelter-in-place or other personal protective measures.  Reporting mechanisms, format and timing of data reports should also be included in the protocol.  It is important to remember that reports are often shared not only with the client but others as well including federal, state and local authorities. Therefore, a data management support team must be available 24/7 to provide quality assurance and create a database from which a variety of reports can be prepared quickly.  Certified industrial hygienists should be utilized to write the IH sampling protocol and be available to lead project management.  Summary reports that pull all of the information together at the end of the event should be prepared and retained just as any other industrial hygiene medical record.
Next comes deployment which includes both necessary equipment and a team of personnel to operate the equipment. Your provider has to have the equipment in inventory or else have connections already in place to get it. Equipment ranges from simple personal monitoring pumps to the more technologically advanced real time wireless monitoring systems with built in GPS and data management software. All of which must be rugged, portable, intrinsically safe and able to collect large quantities of data for the specific contaminant(s) of concern.
One thing often overlooked is the need for an IH Mobile Command Center. It must communicate with both the site's incident command center and also the outside world. A high speed Internet connection is needed for monitoring data management software. A standalone IH Mobile Command Center will not interfere with the incident command center  communication requirements but seamlessly integrate on site.
Training is a valuable component. Your provider should have the ability to train their own responding team and also be available to train other site workers. Monitoring personnel should have completed HAZWOPER, Incident Command, NIMS, respiratory protection and other standard courses. However, prior to deployment, training should occur on the incident IH monitoring protocol, site specific hazards, client's procedures, reporting requirements, and equipment use.
Support away from the response is required. The provider needs to have a strong support staff  provide additional resources to handle issues that may arise during the sampling. Plan now and choose your emergency response IH monitoring provider with these criteria in mind to ensure that your facility is fully prepared for any emergency response.