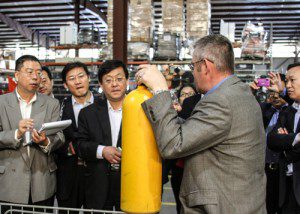 Total Safety recently hosted executives from Sinopec Group, one of the largest Chinese state-owned petroleum and petrochemical enterprise group, at its La Porte, Texas, facility to lead a discussion on hydrogen sulfide (H2S) safety. The meeting was part of an initiative of the Houston Mayor's Office of International Trade & Development.
Sinopec executives were visiting Houston to meet with upstream energy leaders and, as part of that trip, requested to meet with a health, safety and environmental (HSE) services company with expertise in (i) risk identification, risk assessment and risk control, (ii) emergency preplanning and contingency planning, and (iii) the development of gas fields with high hydrogen sulfide content.
"With our worldwide capabilities and expertise concerning hydrogen sulfide (H2S), Total Safety welcomed the opportunity to share our experience and expertise around risk identification, assessment and control," said Jude Taylor, regional general manager for Total Safety. "The safety of workers worldwide is paramount and the discussion focused on how to build on its efforts of continued improvement in this area of operations."
During the facility tour, Sinopec executives witnessed first-hand Total Safety's safety culture and how it educates its customers on the importance of safety in the workplace. They also learned about Total Safety and its entire suite of industrial safety services and equipment.