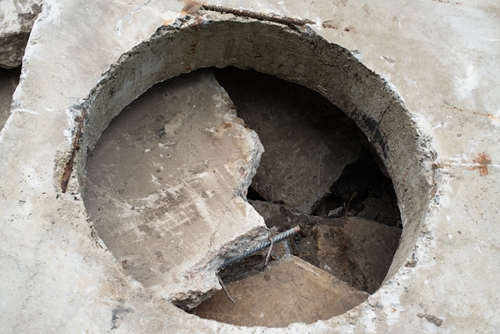 Beginning Aug. 3, a new Occupational Safety and Health Administration regulation designed to protect construction workers from hazards associated with confined spaces will go into effect. The ruling, Confined Spaces in Construction, is initially a temporary policy, whereby employers in the construction industry have 60 days to show good faith efforts toward complying with the law. The new standard would be fully enforced starting Oct. 2.
During the lead​-up to full enforcement, OSHA will not issue citations to employers not in compliance with the ruling if they can prove they are either (1) ordering equipment needed for compliance; (2) scheduling training sessions for all employees; or (3) educating employees about the dangers of confined spaces.
This temporary delay of enforcement was created to give employers more time to ramp up their compliance procedures and to ensure all safety measures are being implemented in an efficient way. Further, this window of time also provides employers with additional time to order new safety equipment and design training programs for employees.
"Safety measures in construction would be brought up to par with those in manufacturing and general industry."
Updating construction safety standards
Relative to other industries that are considered highly risky for workers, the construction industry has an additional set of safety challenges altogether. This is particularly true as it pertains to confined spaces.
While workplace safety in confined spaces is heavily regulated and employers have a multitude of procedures in place to protect workers, construction sites are more fluid, thus requiring more stringent protocols, according to David Michaels, the assistant secretary of labor for Occupational Safety and Health.
The ruling would bring safety measures in construction up to par with those in manufacturing and general industry.
"Unlike most general worksites, construction sites are continually evolving, with the number and characteristics of confined spaces changing as work progresses," Michaels stated. "This rule emphasizes training, continuous worksite evaluation and communication requirements to further protect workers' safety and health."
With the regulation in place, employers would be required to identify all confined spaces on a work site and ensure employees are safe when working within these spaces. Employers would also have to provide workers with all of the safety information they need prior to employees beginning work in a confined space.
Defining confined spaces
Though confined spaces exist in nearly every industrial sector, construction workers on certain projects may be less skilled, and thus less informed of safety precautions or the hazards they are susceptible to. These spaces by definition have enough room for a worker to inhabit it, yet contain limited entry or exit points in case of emergency, OSHA noted. Further, confined spaces are not meant for workers to occupy for long periods of time.
Common examples of these confined spaces in construction are:
Elevator pits
Crawl spaces
Attics
Sewage systems
Manholes
Boiler rooms
Storage tanks
Vaults
Pipes
While working under these conditions, construction crews are exposed to a host of life-threatening hazards, including:
Toxic substances
Explosions
Electrocution
Asphyxiation
New changes
In addition to updated safety training and greater disclosure of confined spaces on work sites, there are five other requirements employers must follow, which OSHA clarified as:
More detailed provisions to coordinate activities between multiple employers on the same site. In this manner, all employers are aware of workers' duties and responsibilities, as well as which employees will be working within confined spaces.
A competent person must assess the work site and evaluate all confined and permit spaces.
Continuous monitoring of the atmosphere around the work site.
Continuous monitoring of engulfment hazards, i.e. electronic sensors could alert workers in confined spaces at the first sign of hazards so they have enough time to evacuate.
Suspension of permits if events impact the entry conditions listed on the initial permit and employers do not update them accordingly.
OSHA also clarified requirements under existing General Industry rules, including:
Employer who instruct workers to enter a confined space without following the complete permit system must prevent workers from coming into contact with hazards either by removing or isolating these dangers beforehand.
Employers must arrange advance notice from emergency service responders if responders are unable to reach a work site within a reasonable amount of time following an employee hazard.
Employers should present training in a way that all language and vocabulary is understood by employees.
OSHA added new definitions to go along with the ruling, which are:
Entry rescue – a type of rescue employers can use, as opposed to exit rescue
Entry employer – a person who instructs workers to enter a confined space
"Employers should focus on procuring safety equipment and coordinating training sessions."
Improving on-site safety
As workplace conditions are more closely regulated, employees should be informed of and protected from hazards during their normal work duties. Using data from the U.S. Bureau of Labor Statistics, Business Insurance reported construction worker deaths are roughly three times higher than the average across all other industries.
Additionally, Labor Secretary Thomas E. Perez stated the new rules will significantly improve worker safety in confined spaces.
"In fact, we estimate that it will prevent about 780 serious injuries every year," said Perez.
Employers have limited time to begin training workers, so it's important they move quick on complying with the new law. During the 60-day non-citation period, employers should focus on procuring the necessary safety equipment that will be needed and coordinating all training sessions with employees. Upon the final Oct. 2 compliance deadline, those who are still not cooperating with the new ruling may be issued a $7,000 penalty for each compliance violation or $70,000 for willful or repeated violations, Business Insurance noted.