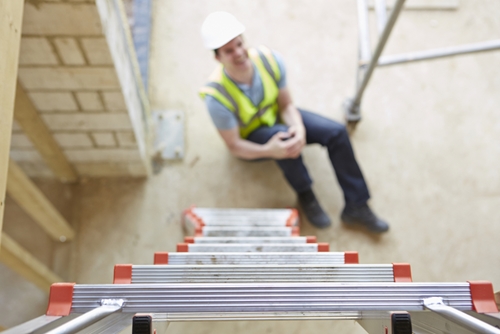 The Occupational Safety and Health Administration is expected to release its finalized rule on slips, trips and falls in August, and with it may come big changes for several sectors.
As Safety + Health magazine reported, OSHA announced its intention to publish the rule on its spring regulatory agenda, which was released May 18. OSHA first released a Notice of Proposed Rulemaking (NPRM) for slips, trips, and fall prevention in 1990, though in 2003 it was decided this proposed rule was out of date.
"Since that time, new technologies and procedures have become available to protect employees from these hazards," OSHA said of its decision to reopen the proposed rule."The Agency has been working to update these rules to reflect current technology."
OSHA again announced a NPRM on slips, falls and trips in 2010 and held hearings for the proposed rule in January 2011.
"OSHA intends to finalize the rule before President Obama completes his term."
Though OSHA has missed publication deadlines for finalized rules in the past, Safety + Health noted, the slip, trips and fall prevention rule is being prioritized. The agency has previously stated its intention to finalize "Walking Working Surfaces and Personal Fall Protection Systems" before President Barack Obama completes his term.
Speaking with Safety + Health last October, Dr. David Michaels, Assistant Secretary of Labor for Occupational Safety and Health, said the changes outlined will have a "big impact" on general industry. Part of the rule will likely involve changes to how employers maintain records of work-related injuries and illnesses related to slips, trips and falls and clarification on how long employers will need to keep record of individual incidents.
The importance of slip, trip and fall prevention
OSHA has stated that slips, trips, and falls are among the leading causes of work-related injuries and fatalities. The agency further noted that around 15 percent of all accidental deaths are related to these incidents, which are second only to motor vehicles as a leading cause of workplace fatalities.
In advance of the finalized OSHA rule, employers can consult several existing OSHA regulations to address hazards in their worksites related to walking or working surfaces. General industry, shipyard employment, marine terminals, longshoring and the construction industry all have standards they must follow relating to slips, trips and falls. These include standards for ladder usage, walking surfaces, staircases, scaffolding, staging and deck openings and edges.
Items or substances on walking surfaces can contribute to slips, trips and falls. OSHA has noted that these hazards can often be related to the following:
Ice
Wet spots
Grease
Polished floors
Loose flooring or carpeting
Uneven walking surfaces
Clutter
Electrical cords
Employers are encouraged to train workers to prevent these accidents through safety awareness programs that emphasize hazard identification, avoidance and control.
Additional emphasis for construction worksites​
For the construction industry in particular, preventing these types of accidents is especially critical as one of every five workplace fatalities is a construction worker. Falls are the leading cause of fatalities for this sector and OSHA found that an average of 362 fatal falls occurred each year from 1995 to 1999. At construction worksites, most accidents are caused by unprotected sides, wall openings and floor holes; improper scaffold construction; unguarded protruding steel rebars and misuse of portable ladders.
"Falls are the leading cause of fatalities for the construction industry."
OSHA requires all employees working at heights of six feet or greater be protected by guardrail systems, safety net systems, personal fall arrest systems or a combination of these. Floor holes should also be covered or guarded. For scaffolding protection, OSHA requires employers to build scaffolding according to the manufacturer's instructions and install guardrail systems along all open sides and ends of platforms.
Protruding steel reinforcing bars can be especially dangerous at construction sites as workers who stumbled into these materials can be impaled or otherwise seriously hurt. All protruding ends of steel rebar must be covered with rebar caps or wooden troughs, or bent so that exposed ends are no longer upright. All employees working above exposed rebar, must be provided with fall protection or fall prevention gear.
For ladder safety, workers should be trained to position portable ladders so that side rails extend at least three feet above the landing and are secured at the top to a rigid support. If this extension is not possible, grab devices should be used. Ladders should always be inspected before use for cracked or broken parts, including rungs, steps, side rails, feet and locking components. Ladders will include recommended weight limits, and workers should not apply more weight to the ladder than it is designed to support. All ladders used at job sites must comply with OSHA design specifications.
Employers should be aware that OSHA standards apply to all contractors who enter into contracts for construction, alteration or repair at the worksite. Additionally, all subcontractors who agree to perform part of the labor in that contract must also follow OSHA standards. Finally, any suppliers furnishing supplies or materials must also follow OSHA rules if working on or near the construction site or fabricating goods or materials specifically for the project.
Additional training and safety guidelines for preventing slips, trips and falls is available through OSHA's website. The agency also recently held its National Fall Prevention Stand-Down campaign, which offered key information about preventing falls, trips and slips in private construction. The online toolbox from the Stand-Down event is still available for employers who would like additional guidance when reviewing fall safety with their workers. OSHA noted that the program has been utilized by commercial construction companies, as well as residential construction contractors, sub- and independent contractors, general industry employers, trade associations, unions and many more groups.