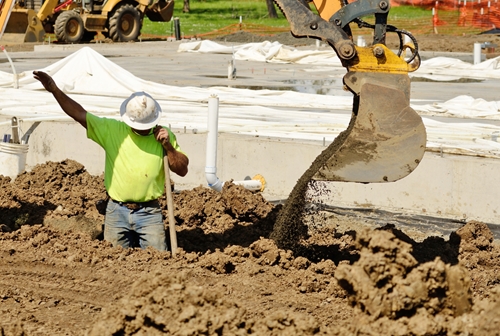 The U.S. Occupational Safety and Health Administration is launching an investigation that underscores the importance of trench and excavation safety in the construction sector.
OSHA is investigating a Boise, Idaho, construction firm after two workers were fatally injured following a trench collapse. Speaking with NBC affiliate KTVB, OSHA Area Director David Kearns said nearly all injuries caused from trench collapse are preventable.
"Generally if a trench caves in then there was probably something that was missed as far as protecting workers," Kearns told the television station. Kearns added that many times, injuries or fatalities result from haste or an underestimation of the hazards presented by this kind of work.
"OSHA inspections uncover many violations of excavation safety that put workers at risk."
Unfortunately, OSHA inspections uncover many violations of excavation safety that put workers at risk. An analysis of OSHA inspection data by the Pittsburgh Post-Gazette found that seven out of 10 inspections of excavation companies in just Southwestern Pennsylvania uncovered violations. Many of these companies were routinely neglecting OSHA requirements for trenches and many times failed to correct the violations after the first citation. The newspaper found 311 violations were issued in the region from January 2008 to April 2016, for a total of at least $706,000 in penalties.
However, violations of trench safety are not limited to Pennsylvania. As Safety + Health magazine reported, an average of 35 workers died each year from 2000 to 2009 due to trenching or excavation cave-ins.
Standards relating to trenches and excavations
OSHA has three main standards that specifically relate to trenches and excavations in the construction sector:
1926 Subpart P, Excavations
1926.800, Underground construction
1926.956, Underground lines
Additionally, there are general industry and state-specific standards employers should consult to keep their worksites in compliance. Though OSHA defines trenches and excavations differently, OSHA's standards apply to all open excavations, including trenches, regardless of size. OSHA considers excavating to be one of the most hazardous construction operations, which is why the organization provides numerous training materials to make its regulations easier for employers to understand.
In its safety training documents, OSHA noted that one of the greatest risks construction workers face in this type of work is cave-ins. Cave-ins are more likely to result in worker fatalities than any other excavation-related incidents due to the weight of a cubic yard of soil, which can be as much as a car. Falling loads, hazardous atmospheres and mobile equipment can all contribute to the likelihood of a cave-in.
Key components of OSHA's trench and excavation safety are designating a competent person, utilizing pre-planning and creating protective systems.
The role of the competent person
OSHA defines a competent person as an individual, designated by the employer, who is trained to recognize both existing and potential hazards at the worksite. This person must also have the authority to quickly enact corrective measures to eliminate these risks.
For excavation safety, the competent person must take on several tasks, including the following:
Classifying soil
Inspecting protective systems
Designing structural ramps
Monitoring water removal equipment
Conducting site inspections
"Soil classification is particularly important to excavations and trenches."
Soil classification is particularly important to excavations and trenches as it helps to predict the stability of the worksite. Soil stability can be affected by the type of soil and how much water it contains, as well as external factors such as any previous back-filled excavations or vibrations from heavy equipment and tools being used nearby. The competent person should be able to classify the soil by type and recognize any external risk factors.
Preplanning
Employers are advised to learn as much information about a jobsite as possible in order to make effective pre-planning safety strategies. This may be done through on-site studies, test borings, consultation with local officials or utility providers or observation. OSHA has noted that there are several factors employers should evaluate in their pre-planning, including:
Traffic
Proximity and physical condition of nearby structures
Soil classification
Surface and groundwater
Location of the water table
Overhead and underground utilities
Weather
It is especially important to know the locations of sewer, telephone, fuel, electric and water lines. Employers can call 811, the "Call Before You Dig" service provided by Common Ground Alliance, for confirmation on the locations of utility lines. Utility companies should also be consulted directly whenever possible to ensure the lines are properly insulated before digging begins.
Protective systems
The protective systems employers can build at worksites should be determined by the specific conditions and potential hazards at the location. Generally speaking, these systems are used to prevent cave-ins through sloping, benching and supporting the sides of the excavation or placing a shield or trench box between the sides and the work area.
Any trench that is more than five feet deep and not built entirely in stable rock requires a protective system under OSHA standards. Additionally, the competent person should inspect the protective system, as well as adjacent areas, before workers enter the site, as well as throughout the shift and after a rainstorm.
Workers should also be trained on how to recognize signs of a potential cave-in. Employers should consult OSHA standards for full guidance on support systems, such as shoring, bracing, or underpinning, that will keep adjacent structures stable during the excavation.
In addition to reviewing OSHA's training materials, employers can work with qualified safety consultants to ensure the structural integrity of protective systems and other worksite safety measures covered by general OSHA safety recommendations and standards.