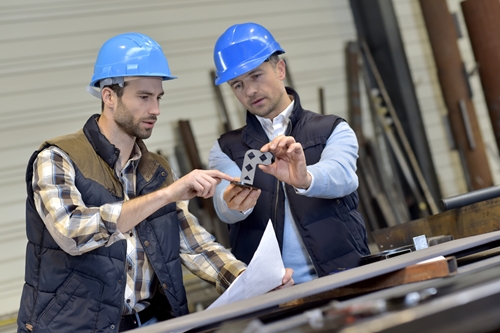 Employers have a responsibility to provide safe working conditions for their employees. In order to keep job sites accident free, employers will often hold various safety training programs. These programs help to teach workers to recognize and reduce their risk hazards. However, a recent study has found that many of these programs may not be as effective as they could be, especially for workers who have just arrived on the worksite.
As Safety + Health magazine reported, employees in their first month on the job are three times more likely to incur a lost-time injury than workers who have been at their job for more than a year.
According to the magazine, these workers often face higher risks because they do not fully understand safety training or how to perform their tasks properly, and are often afraid to speak up. While a lack of familiarity can be one factor, Curtis Breslin, a researcher with the Institute for Work & Health, said these workers also likely haven't fully developed their risk perception.
"They don't have the knowledge and awareness, so they're underestimating the risks," Breslin told the magazine. "It could be issues with training, maybe they're not being trained [or receiving] on-the-job, hard-knocks-type training that happens in the first or second month."
Additionally, Safety + Health magazine noted, new workers are typically inundated with lots of new information when they first arrive on the job. This may make it more difficult to retain knowledge from their safety training even if that training is conducted in a manner compliant with Occupational Safety and Health Administration standards. In fact, researchers from IWH told Safety + Health that around 80 percent of workers in a recent IWH survey could not remember their initial safety training.
This finding underscores the crucial importance of creating safety training programs for new workers that are engaging. In sectors with a higher risk for accidents and injury, including oil and gas, agriculture and construction, increasing employee engagement and information retention in safety training is especially critical.
How to create more engaging safety training
According to Occupational Health & Safety magazine, employers should utilize teaching practices used in andragogy, or adult education. Whereas children are taught to focus on the teacher or instructor, training for adults should focus on the learner, or the worker in this case.
OH&S recommended instituting engaging training programs that emphasize the benefit of following the recommendations of the training, as well as how the practices can be easily incorporated into daily work routines. For example, when workers feel as though safety practices are burdensome, they are less likely to retain the information. Training that emphasizes how following simple practices, such as wearing a respirator or other personal protective equipment, can greatly reduce the worker's risk of injury will be more effective than programs that simply present statistics or merely outline risks in a general manner.
Additionally, shorter training sessions that occur more frequently are more effective than longer ones. OH&S noted that the average listener will only retain about 20 minutes of content from a 90-minute lecture. If the training session needs to run longer due to the complexity of information being presented, it's advisable to include a 10-minute break for every hour of the session.
OSHA also recommended following the principles of adult education when creating a safety training program. In addition to wanting to know how the training will have an immediate effect on their lives, workers also benefit from being engaged in active learning, OSHA found. The agency recommends fostering active engagement in the training through learning activities, visual aids and guided practice with the equipment, if applicable.
The environment of the training session should be conducive to questions and feedback, as well. Case studies and role-playing can also be effective tools, and OSHA advised employers to be responsive to literary or language barriers that may make it more difficult for workers to follow the training.
Finally, as Safety + Health noted, safety awareness should not stop with early training. In addition to participating in safety awareness campaigns and holding ongoing sessions that review critical information, employers should foster a company culture that promotes safety and encourages workers to report safety hazards and utilize their training.