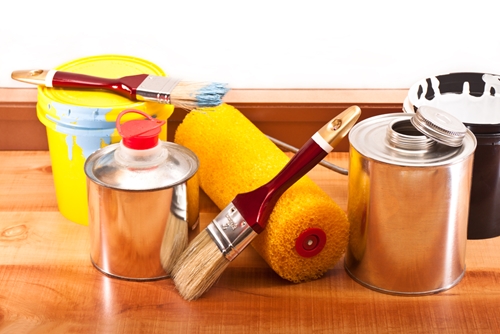 A follow-up inspection from the Occupational Safety and Health Administration found that an Ohio sign manufacturing company was continuing to expose workers to respiratory, chemical and paint hazards.
This was the third time in 10 years that inspectors found multiple safety violations at the sign company. The business was cited for seven repeated and two serious health violations with proposed penalties totaling close to $47,000. The company was previously cited in 2006 and 2012.
"A company repeatedly cited for the same hazard isn't taking the safety and health of its employees seriously," Kim Nelson, OSHA's area director in Toledo, said in a statement.
"Any hazardous chemicals stored at the worksite must be labeled."
OSHA inspectors indicated several notable safety violations in their report, including:
Violations of respiratory protection hazards including failing to provide medical evaluations, fit-testing and training to employees
Lack of training for workers on hazardous chemicals in use in the facility
No labeling on containers of flammable paint thinner
Rags contaminated with flammable liquids being left in work areas
OSHA officials noted that these citations should serve as a reminder to other companies where workers interact with hazardous chemicals, which is common in the construction sector. Protecting workers from chemical exposure is very important, and OSHA offers several guidelines to ensure employers understand its requirements.
Understanding OSHA respirator use and chemical exposure rules
Under OSHA requirements, information about the identities and hazards of any dangerous chemicals at the jobsite must be available and understandable to workers. All employers with hazardous chemicals in their worksite must have labels and safety data sheets for their exposed workers, and train them to handle the chemicals appropriately.
Employers are also required to identify and evaluate the respiratory hazards of any chemical on the site. For proper safety, management should consult OSHA's permissible exposure limits (PELs) to protect workers against the health effects of exposure to hazardous substances. PELs include limits on the airborne concentrations that is permissible for these chemicals. Engineering and administrative controls, such as increased ventilation or limited exposure times, may be used to reduce worker exposure risk. If these methods are not adequate, respirators should be used.
If respirators are needed, employers can consult OSHA's eTool for instruction on selecting the right respirators and developing change schedules for gas/vapor cartridges. Employees also need to be fitted for respirators in accordance with OSHA guidelines. Additionally, the respirator's fit must be checked annually using either qualitative or quantitative methods to make sure the mask is still fitting the worker correctly. Qualitative fit testing with use subjective sensation, such as taste, irritation and smell, to gauge the respirator's effectiveness for the worker. Quantitative testing will use instruments to measure face seal leakage.
OSHA's respirator standard also includes regulations for user seal check procedures, respiratory cleaning procedures and respirator medical evaluation.