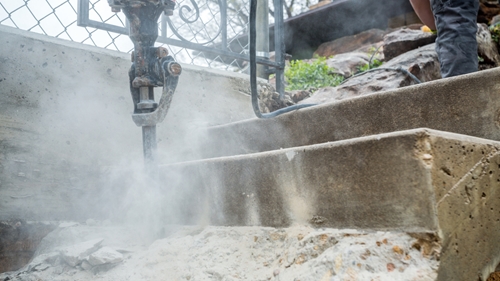 The Occupational Safety and Health Administration regularly reviews and updates its workplace safety guidelines to better protect employees in a variety of working environments. The recent reduction in permissible exposure limits for silica at construction job sites is one change that has widespread impacts across the country and could lead to costly violations if not addressed appropriately.
Let's review what these changes mean and how businesses can successfully address the stricter standard, to keep employees safe and avoid the consequences of violating the new rules.
What the new silica standard means for businesses
"The permissible exposure limit dropped from 250 micrograms to 50."
The new silica standard is focused on the construction industry, which is good news for organizations outside of that market. However, it affects many thousands of businesses and millions of individual workers throughout all aspects of the construction field. Silica exposure creates a variety of negative health outcomes, ranging from cancer to kidney disease. With silica dust a common element of the construction industry, it's not surprising OSHA decided to reduce allowable limits in an effort to better protect workers.
Officially, OSHA significantly reduced the allowable level of employee exposure to silica in late September, dropping from a Permissible Exposure Limit of 250 micrograms of silica per cubic liter of air to just 50 per eight-hour workday, Lexology said. This 80-percent drop means a variety of contractors and construction companies in nearly all areas of the industry need to consider how to change workflows, improve protection and stop overexposure on a consistent basis.
Although the new rule technically went into effect on Sept. 23, the federal health and safety regulator postponed enforcement for 30 days for any businesses found to be acting in good faith to comply with the new rule, Safety + Health magazine said.
Along with a numerical reduction to the upper limit of silica exposure, the OSHA rule also requires specific approaches to compliance. The federal regulator shared two options to help businesses align with the new requirements, as highlighted by Lexology. The first is a specific control method outlined as part of the new rule. It lays out a variety of common construction tasks, lists OSHA-approved control methods and notes required respiratory protection for both half and full shifts.
Employers in the construction industry can also elect to measure exposure at their own work sites, then choose protective measures they believe are effective in their specific circumstances. Both approaches are allowable based on OSHA's guidance and must be accompanied by a written plan that documents efforts to mitigate or eliminate exposure. However, individual determination of silica risks and implementation of safety considerations can mean significantly more work for contractors and construction companies.
Construction Dive said the reaction to the new rule was mixed, with some businesses pushing back against the rule until it recently became official. However, others in the construction industry have already implemented new equipment and other safeguards to get ahead of the rule's enforcement.
Important decisions
"Effective personal protective equipment is vital for protecting workers."
Businesses in the construction industry need to make sure they continue on the path to compliance and quickly implement the necessary pieces to ensure workers remain safe. One resource geared toward small businesses that can help significantly is OSHA's "Small Entity Compliance Guide for the Respirable Crystalline Silica Standard for Construction." The document, nearly 100 pages long, offers guidance from a variety of perspectives. In-depth information about creating a written plan, respiratory protection and much more are included, and much of the information is applicable to larger companies as well.
Effective personal protective equipment is also vital for protecting workers from silica. Consider working with a trusted provider like Total Safety to address your business's needs.