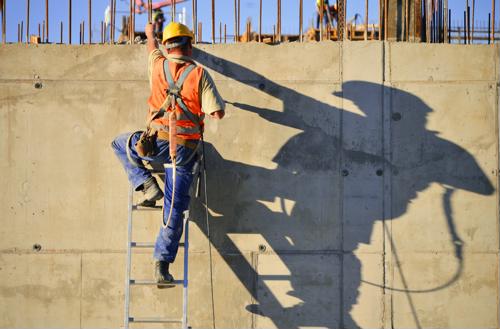 A review of the Occupational Safety and Health Administration's top 10 violations is a simple and effective way to make sure your company doesn't make some of the country's most common workplace safety mistakes. Although there are plenty of OSHA violations in the federal regulator's rule book, these 10 most commonly cited issues are recurring problems for businesses large and small in a wide variety of industries.
An uncommon change
"OSHA's top 10 violations list contains a rare new addition."
A rare addition of a new entry on the top 10 list, fall protection – training requirements, is especially notable. The nature of many of the most common violations means it's hard for them to be displaced, whether due to the sheer number of workers who have to abide by the relevant standards, widespread issues with successful compliance or a mix of both. The rise of issues with fall protection training requirements should be an area of emphasis for companies that have employees working at heights, as Safety + Health magazine noted.
"Many of these violations were specifically related to training requirements and ensuring that a training program for each employee who may be exposed to fall hazards is established," Patrick Kapust, deputy director for OSHA's Directorate of Enforcement Programs, told Safety + Health. "Often, these violations occurred in the roofing, framing and residential modeling industries. We are concerned about the recent uptick in this category and urge employers to take the necessary measures to train employees on this competency."
OSHA issued a total of 1,724 citations related to this component of the fall protection rules. Common issues ranged from a lack of an established, formal training program for employees working at heights to maintaining written certification records, lack of qualified trainers and issues with employees retaining pertinent information.
There are some clear actions for safety professionals and business leaders to consider in terms of improving compliance with fall protection training requirements. Although each company and situation is unique, emphasizing the use of well-equipped, competent educators, regularly reviewing and corroborating training records, and ensuring training standards are in line with OSHA's are all straightforward and important improvements.
A look at the full list
Besides the addition of fall protection – training requirements, there weren't any other major changes to OSHA's list of frequently cited violations. Here's the full list:
Fall protection – general requirements. Many of the 6,072 total violations cited by OSHA stemmed from a lack of effective protective systems for construction workers handling tasks 6 feet or more above a lower level.
Hazard communication. The widespread, cross-industry need to develop a hazard communication program whenever workers use or interact with potentially dangerous chemicals means there are plenty of citations related to such plans – or a total lack of one.
Scaffolding. With similarly serious safety considerations as fall protection and use in a variety of contexts, scaffolding citations stayed at the same spot on the list as it was in 2016.
Respiratory protection. Issues with conducting required medical examinations for workers using respirators and documenting a respiratory protection plan, among other issues, contributed to the high ranking.
Lockout/tagout. Protecting employees from unexpected startup and release of stored energy during equipment maintenance is a complicated task that can easily lead to citations by an inspector.
Ladders. With so many issues related to working at heights, it's not surprising ladders also consistently rank on OSHA's list.
Powered industrial trucks. Issues related to training, certification, unsafe use and the need to repeat the driver evaluation process every three years all led to a high volume of citations.
Machine guarding. The need to protect employees from machinery in operation is a broad, widespread one that affects many businesses.
Fall protection – training requirements. This is the rare new addition to the list.
Electrical wiring methods. A variety of technical violations related to wiring safety led to this regulation's spot among the most frequently cited violations.
Effective workplace safety programs require a wide variety of general and industry-specific considerations, plans and tools. To make your business as safe as possible, reach out to Total Safety today.