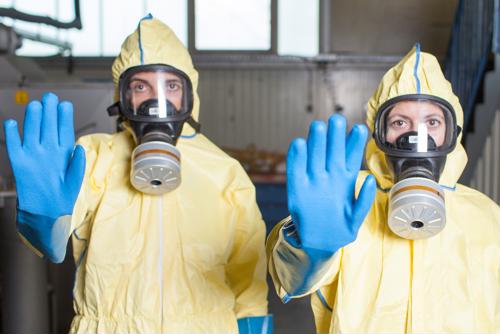 Respirators are vital tools for keeping employees safe in a variety of different and potentially dangerous contexts. Fumes, vapors, gases and small pieces of easily inhaled particulate matter can all cause consequences for employees up to and including serious long-term illness and death. From both common sense safety and regulatory perspectives, respirators are must-have equipment for a wide range of employees.
Facial hair and respirators: What's acceptable, what isn't
"Respirator safety is a vital consideration for a variety of businesses."
There's little, if any, debate about the value of respirators in general, but there is an issue that persists in terms of safe and compliant usage. OSHA regulations clearly state that respirators can't be worn when facial hair interferes with the device's seal to a worker's face or impedes the function of valves. Functionally, that bars employees with a range of longer, fuller facial hair from using respirators and, therefore, filling job roles where these devices are required.
However, there's no blanket ban on facial hair from OSHA. The rule allows some forms of neat, trimmed facial hair as long as it doesn't interfere with safe respirator operation. Additionally, there are certain types of respirators that don't require a seal around the face, such as some powered air-purifying hoods and hooded respirators that cover workers' entire heads. These distinctions mean there are plenty of nuance involved in the respirator rules, as well as opportunities for both effective enforcement on the part of individual businesses and chances to run afoul of OSHA's rules.
Where can companies place emphasis to encourage a high degree of compliance and discourage facial hair that interferes with safe respirator use?
Regular grooming: As Safety + Health magazine pointed out, one of the biggest impediments to effective, secure respirator utilization comes not from well-groomed, approved facial hair, but the growth of stubble. The National Institute for Occupational Safety and Health pointed to research that shows as little as one to two days of of beard growth can cause significant interference with the seal of a respirator. Whether businesses allow employees using this equipment to have facial hair or not, they must all stress the need to regularly shave to create conditions that are as safe as possible.
Clear understanding of specific equipment: The specific types of respirators used at a given business have a major impact on allowable facial hair. When these devices need a tight seal around the face, employees and managers must be careful about the types of facial hair worn. Respirators that fully envelop the head don't carry such restrictions. It's vital for companies to regularly review the employees utilizing these tools and the exact types of respirators used to make sure no issues slip through the cracks. Safety managers can consider reviewing standards and usage whenever a new employee takes on a role involving a respirator and when new devices are put into service.
OSHA estimated 5 million employees in 1.3 million workplaces have to wear respirators to safely perform and complete their daily duties. This valuable type of protective equipment only works as designed when all rules and suggestions are considered and followed appropriately. Whether your ultimate decision is to disallow any employee using these devices from having facial hair or conducting regular reviews to ensure the equipment seals appropriately and works as intended, respirator safety has to be a continual priority.
To make sure your facility and staff are as safe on the job as possible, get in touch with Total Safety today.