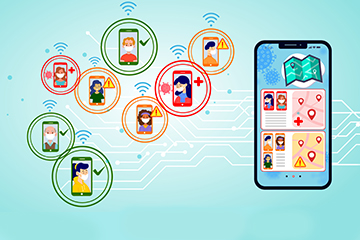 We've all heard about the importance of contact tracing in managing the spread of contagious illnesses like the coronavirus.  Contact tracing has been used for years to control the spread of infectious diseases. The global COVID-19 pandemic has highlighted the need for unified health and safety integration on a larger scale. Contact tracing is a key component in understanding contact patterns and evaluating hot-spots, and incorporating effective social distancing measures at your facility.
If you are wondering how you can implement contact tracing, we can help make it easy and stress-free. Through our partnership with Blackline, we can show you how contact tracing can protect your workforce with the analytics from a Close Contact Report that tracks all Blackline device users to connect the dots of personnel interaction. If a person is diagnosed with COVID-19, you can run a report to see their individual traffic patterns, who they interact with, and 3rd degree exposure points.
Our powerful communication system works no matter if it is while operating in the field or an office setting. Using intrinsically safe wearables and smartphone application options, employee location data streams to a cloud-based web portal that powers the interactive, online industrial contact tracing solution. Now you can have the tools to mitigate risks and  manage any contagious outbreak, quickly and strategically.
Contact us to learn how:
Contact tracing can help safeguard your workers against contagious outbreaks
Blackline's new Close Contact report can ensure an efficient response to the threat of COVID-19, or simply understanding interaction patterns in your company
Truly cloud-connected technology that enhances safety in any environment with contact tracing
Individual privacy protection, only authorized persons have access to report.
Clint Palermo | 281.627-3810| cpalermo@totalsafety.com