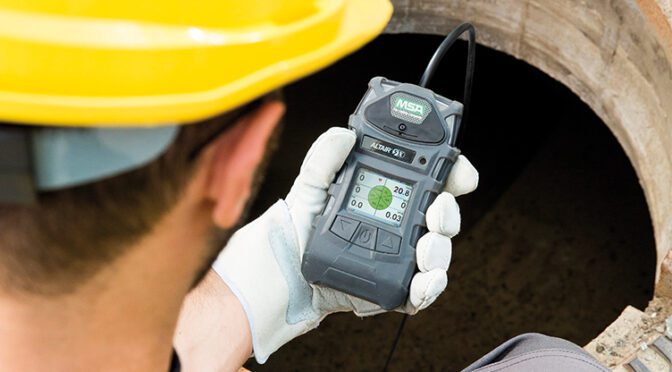 Gas detection plays a fundamental role in helping keep workers and worksites safe from flammable and toxic gases. In fact, gas detection is one of the most critical aspects of any safety program, which is why safety teams must continually be on the lookout for the best, most up-to-date solutions.
There was a time when a gas detection program consisted only of detection devices, fast-responding sensors, and effective maintenance. These things are still foundational and essential, but today, they represent only part of the equation. 
The following are a few key items to keep in mind when developing a gas detection program:
Durability
You need to trust your gas detectors to run effectively even on the toughest worksites. That's why a detector's Ingress Protection (IP) rating matters. Look for equipment that has passed a 10-foot drop test and has an IP rating of IP68 for spray, dust and submersion.
Long Battery Life
Battery capacity is key…the longer the field life of the battery, the less maintenance and attention needed.
Fast, Effective Maintenance
Automated test systems calibrate and bump-test gas detectors automatically. A test stand should be able to select a gas cylinder automatically and help you save gas volume.
Wide Range of Applications
Whether used in confined spaces or locations like oil and gas platforms, the ideal product is designed to withstand the unique challenges of each environment and activity.
Substantial Warranty 
Gas detector suppliers that offer strong warranties stand behind their customer service and technical support. Substantial instrument and sensor warranties are a great indication of product quality and durability.
Software as a Service
Software as a service consolidates all information from portables in one place. It should bring data from devices together in a user-friendly format so safety professionals can make the most of it.
Seamless Connectivity
Your solution should alert you at the detector and remotely via computer or mobile device, simplifying system setup and connectivity.
And of course…Advanced Technology
Total Safety & MSA: Trusted Partners in Gas Detection Solutions For Over 30 Years.
Total Safety are experts in leveraging MSA gas detection technologies to fit your unique needs in any hazardous environment, recording data even when offline and in the most rigorous conditions.
As safety managers face new challenges in maintaining a healthy fleet while balancing it with other safety goals, cloud connectivity has become vitally important in gas detection. Connected gas detection programs save safety managers precious time on gas detection management, and it enables much-needed insight which drives improved safety outcomes.
Having technology that works brings peace of mind to your operation. A successful gas detection program fulfills safety expectations, objectives, and improves safety outcomes. When combining gas detection equipment and sensor technology with software technology, operations are provided benefits such as:
Safety process improvements

Informed decision making

Drive worker compliance and accountability

Maximize gas detector uptime

Identify training opportunities

Record keeping compliance

Real-time alarm alerts
World-class MSA detection equipment combined with Grid services puts detection data to work for people in charge of safety. Safety io Grid software has a user-friendly interface that creates a comprehensive picture and helps streamline the gas detection program. 
From volatile compounds to CO2 and carbon monoxide, the system monitors, measures, and collects data on these and other elements that could pose a risk to workers. Grid services help bring workers home safely, providing real-time, data-driven insights for people to make informed decisions, maximize detector up time, document alarm activity, and drive accountability.  
The Safety io Grid will further streamline gas safety management:
Safety managers can now determine the warranty status of a sensor remotely, without having the device to hand.

Grid services now allow devices to be assigned to a specific department, worker and/or location via virtual device labelling.

The notification system now helps customers automate calibration gas refills and other maintenance concerns
Data Security
Together, Total Safety and MSA Are Committed to Protect Employee Privacy and Data.
Just like choosing the most reliable gas detectors and selecting the most practical gas detection management software, safety professionals also should look for the most reliable and secured connectivity solution.
Here are two key reasons why:
Sensitive Data

: Connected portable gas detectors store and process sensitive information, such as worker location information. For this reason, keeping workers safe means keeping sensitive data safe, too.
Data Integrity

: Because device readings and test information are critical to protecting workers, they must be complete and free from error. Maintaining data integrity means ensuring that device information that's stored in the cloud remains complete, accurate, and reliable – no matter how long the data is stored or how often it is accessed by authorized personnel. 
For safety managers who want to reap the benefits of a connected gas detection program, it's essential to embrace the advanced technologies that make secure connectivity a reality. 
Secure connectivity that's coupled with best-in-class detectors, test equipment, and practical insights gives safety managers peace of mind, freeing them up to focus on the bigger goals of the overall safety program. MSA ensures that measures are in place which allows Total Safety to deliver sensitive reports and information to only authorized people in efforts to protect employee privacy and secure data integrity.      
MSA (with Safety io software) maintains a rigorous data privacy policy and strict protection system to help ensure that the information from your devices remain confidential and safe. 
Safety io backs up customer data every 12 hours and provides an advanced set of access, encryption, and logging features to help customers control their data more effectively. Safety io also is certified to ISO/IEC 27001:2013 for information security management practices. 
Conclusion
In partnership with MSA, trust Total Safety with your connected worker safety program. Through our connected gas detection programs, we combine our highly trained expertise with the latest equipment to fulfill our mission of ensuring the safe Wellbeing of Workers Worldwide. 
Together, we ensure that data integrity of gas detection equipment is at the forefront for workplace safety. Total Safety and MSA both have the experience and track record you can trust. Call, email, or text when you will reach an expert…no matter where you live.
Learn more here about MSA's commitment, capabilities, equipment, and services.