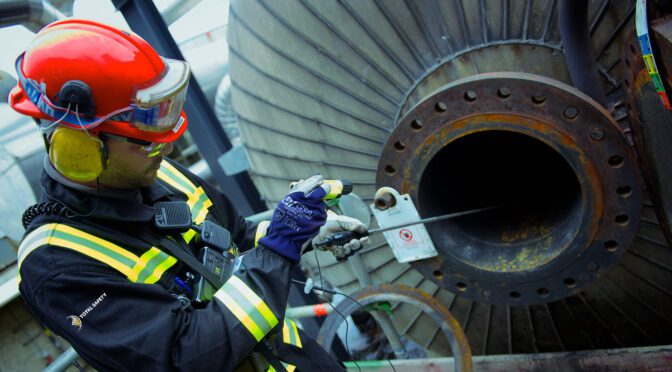 From oil and gas to refining and chemical processing, a plant turnaround (or shutdown) is an inevitable reality in most industries. Turnarounds provide an essential opportunity for various maintenance issues to be identified and resolved. A turnaround that stays within budget and timeline can have a positive effect on a plant's overall efficiency and safety. On the other hand, a turnaround that's too long or exceeds its budget could result in the company reporting a financial loss. The success of any turnaround project is the result of thorough strategic planning and the careful execution of that plan. 
What is a Plant Turnaround?
A turnaround is a scheduled stoppage of part or all of a plant's day-to-day operations. It's common for operations to stop for maintenance, cleaning, equipment replacement, repair, upgrade resources, or to maintain regulatory compliance. Employees and contractors work (sometimes around the clock) to get everything ready for the plant to resume its regular operations.
Today, thanks to advances in equipment reliability and maintenance programs, turnarounds happen less often than before. In the oil and gas and refining industries, for example, a company may schedule a turnaround every 3-to-5-years. In chemical processing, the cycle may be 10 years.
Turnarounds also vary of duration, typically lasting between 2 weeks and 2 months – depending on the industry, plant, and other variables.
During a turnaround or shutdown, speed is of the essence. Shutdowns can be extremely expensive in terms of production lost, increased labor, and equipment expenses.
"Plant or refinery turnaround planning is a complex process that requires strategy and careful execution."
Planning For a Successful Plant Turnaround
Plant turnaround planning is a process that requires strategy and careful execution that sees project success to fruition. The following points can ensure effective turnaround management, helping operators save significant time and money.
Plan Ahead
As an organization, it's important to define turnaround objectives. Setting goals, developing strategies, defining tasks, and creating schedules form the basis of turnaround development and success. With your turnaround project, plan at least 8-12 months in advance before the shutdown or turnaround occurs. Here, management must clearly outline what work needs to be accomplished by creating a clearly defined set of criteria. A sound turnaround strategy helps reduce downtime, improves safety, and reduces costs while enhancing business process optimization and mitigating risk.
There are normally two phases in turnaround planning: strategic and detailed. Strategic planning involves an overview of what will take place and how objectives will be accomplished. During the detailed planning phase, turnaround specifics are determined and further strategic plans if necessary are set.          
Along with planning a turnaround strategy, it's key to share facets like objectives, project preparation schedule, and dynamic risk management initiation with stakeholders. If a problem or delay does occur, resolution will be much easier if you're in consistent communication with shareholders.
Expect the Unexpected
Plan for the unseen. With any turnaround project, certain obstacles or circumstances beyond plan are inevitable. Anticipating these variables is a way to improve overall turnaround effectiveness. From one phase to the next, your plan needs to address all activities and expected deliverables. Even with those factors addressed, it's still difficult to foresee certain variables, such as the exact number of parts needed during a certain turnaround. Waiting for a single part can cause significant progress delays. So, it's important to have a variety of parts, tools, and equipment on hand before the project begins. You want to avoid ordering certain parts one the project has started. Having the essential tools and parts on site will help save you time and money.
Coordinate Early with Suppliers
During a shutdown, it's crucial to prepare as much as possible to help minimize potential challenges. A good tip is to enlist the help of suppliers and partners early in the turnaround process. As mentioned earlier, this will prove advantageous if certain obstacles or challenges do arise. Turnarounds are multifaceted, complex operations that require specialized components. Certain parts may require longer lead times, so early engagement with vendors will help to ensure these parts will be available when needed. Bottomline…early coordination with suppliers can help you plan potential contingencies to ensure maximum project efficiency and effectiveness. 
Uphold Tight Quality Control
Maintaining tight quality control is an essential component in a successful turnaround project. Only allow the use of high-quality parts and components…this will help make your turnaround more effective. With too much specification flexibility, a contractor may use cheaper, lesser quality parts to complete a project. As a consequence, inconsistent part quality brings about unpredictable performance, unnecessary maintenance requirements, and possible downtime.
Identify Opportunities
During a normal turnaround or shutdown, companies are looking to return their systems to their actual original working condition. Yet a turnaround can be a great opportunity to upgrade and improve their systems for higher reliability and performance. True, this process does take time and further strategic planning to execute such improvements. But this proactive measure will save time, effort, and money in the long term.     
"Regardless of the temporary expense and delay, a strategic, well-planned turnaround will prove beneficial to your company."
Plant Turnaround and Shutdown Services
A plant turnaround is a major endeavor. If you need help, Total Safety is ready! Our experienced professionals will work with your operation to decrease turnaround periods and lower costs at any location. We have the people, programs, and experience to provide the support you need during crucial turnaround and shutdown periods. We've developed effective and efficient services that can help improve safety and drive project efficiency. 
Talk to a Total Safety expert today at 888-328-6825!