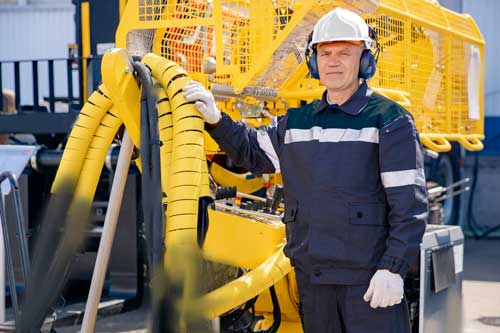 What is Machine Guarding?
Moving machine parts have the potential to cause severe workplace injuries, such as fractures, lacerations, burns, crushing, or even amputation and hands are especially vulnerable. Safeguards are essential for protecting workers from these preventable injuries.  
Machine guarding is a measure used to prevent body parts and unwanted objects from coming into contact with moving or dangerous parts of machinery and it protects the operator and other employees in the work area from hazards created during the machine's normal operation.  
According to OSHA, machine guarding is the first line of defense to protect workers from machine-related injury. OSHA requires guarding for any part of a machine, function, or process that has the potential of causing an injury. This measure differs for every machine due to the varying physical characteristics and how the user operates the equipment. 
What are Common Types of Machine Guarding?
There are four main types of machine guarding:
Fixed machine guards are permanently attached to the machine, don't have any moving parts, and can't be moved while the equipment is in use. These guards are commonly used to enclose the point of operation, or other hazards that the operator doesn't need to interact with, like fan blades or flywheels.
Interlocked machine guards, also known as barrier guards, are built into the moving parts or power system of the machine and automatically disengage the power when the guard is open or removed. Barrier guards are particularly helpful in situations where operators need to open the guard or access the guarded parts of the equipment.
Adjustable and self-adjusting machine guards adjust to the size of the material or stock. Adjustable guards must be manually adjusted and locked into place, so employees who operate these guards must be trained to use them.
Machine guard barriers help guide operators in the safe use of all kinds of industrial equipment. Typically, a machine guard barrier consists of safety trip controls, presence- sensing devices, and electromechanical sensing devices.
Assess Machine Functions and Risks
To determine whether equipment requires machine guarding, managers should go around the workplace and assess them for specific risks. These can include moving parts that could result in workers being struck or crushed. They can also make note of what is considered a safe distance to prevent someone being pulled in or struck by machinery.
What Parts Should be Guarded?
With machine guarding, managers should determine whether they should guard against components such as rotating equipment like belts or gears, as well as parts that could impact or draw workers in. These include abrasive wheels that should be guarded based on the type of the wheel and work being performed.
What is the Purpose of Machine Guarding?
There are pieces of equipment unique to the oil and gas industry that need proper machine guarding. Workers in the sector are at risk for crushing injuries and amputations that could be caused by moving parts or malfunctions. 
The Importance of Machine Guarding
In 2020, the rate of job-related injuries and illnesses for the oil and gas industry in the United States was 1.4 per 100 workers.  Oil and gas staff may be at risk of losing their fingers, limbs or other incidents if companies do not protect employees by using machine guards and training them to be aware of workplace hazards.  
"Companies should inspect machines for any signs of damage that could indicate that machines are not safe to operate." 
Inspect Machine for Damage   While some pieces of large equipment are inherently dangerous, machines that have been ill-maintained or not inspected in a long period of time may put workers' safety at risk. Companies should inspect machines for any signs of damage that could indicate they are not safe to operate. Operate the e and see whether they are defective or malfunctioning to see whether they need maintenance or should be pulled out of the workplace.  
Train Workers on Machine Guarding and Recognizing Hazards
Workplaces with machine guards should also make sure workers understand the importance of these safety devices as well as how they work, according to the U.S. Occupational Safety and Health Administration. Managers should train employees to recognize specific hazards with machines and educate them on the right way to operate machinery. Employees should be reminded to avoid equipment that do not have guards. They should also know to alert managers to any problems with the guards or the machines themselves to address the issue quickly and safely.
How Total Safety Can Help
At Total Safety, our professional EHS team is ready to help with compliance inspections, recommendations and training services for a broad range of workplace requirements to help safeguard your workforce. For more information, fill out our contact us form or call our office to talk to one of our experts at 888-328-6825 today.