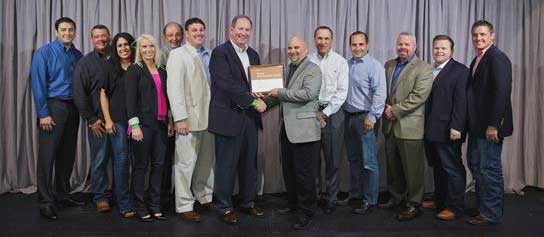 Total Safety received 18 Contractor Awards for Meritorious Safety Performance awards at the 2015 American Fuel and Petrochemical Manufacturers (AFPM) National Safety Conference Awards Event Wednesday, May 16 in Austin, Texas for work performed in 2014. The member locations receiving the award range across the U.S. in more than five states. Total Safety has received 54 AFPM contractor merit awards in the past four years.
The AFPM Contractor Award for Meritorious Safety Performance recognizes maintenance contractors working a minimum of 20,000 hours per calendar year at a regular member facility which has achieved a total recordable incidence rate of 0.6 or less with no workplace related fatality during the calendar year.  The contractor's application must be approved by a regular member facility after the OSHA 300A Summary log information has been submitted.
AFPM presented contractor merit awards to about 49 companies this year. Total Safety ranked in the top 10 for total number of merit awards received. The event marked a new record for Total Safety in regard to the number of awards received in a single year. Improvements in the company's safety culture and safe work hours in 2014, more than double awards achieved in 2012.
"I'm very proud of our safety culture and the recognition from AFPM validates the hard work and dedication by all of our employees and as well as our strategy of leading by example," said Total Safety Chief Executive Officer Troy Thacker. "Thank you to all of the regular member companies who have displayed their confidence in our performance."
AFPM, formerly known as NPRA, the National Petrochemical & Refiners Association, is a trade association representing high-tech American manufacturers of virtually the entire U.S. supply of gasoline, diesel, jet fuel, other fuels and home heating oil, as well as the petrochemicals used as building blocks for thousands of vital products in daily life.
About Total Safety
Total Safety®, a Warburg Pincus portfolio company, is the world's premier provider of integrated safety and compliance services and the products necessary to support them, including gas detection, respiratory protection, safety training, fire protection, compliance and inspection, comprehensive flare services, industrial hygiene, onsite emergency medical treatment/paramedics, communications systems, engineered systems design, and materials management. It operates from 150 locations in 21 countries to ensure the safe Wellbeing of Workers Worldwide (W3). For more information about Total Safety and its unwavering commitment to safety, visit www.totalsafety.com.
Contact:
Cindy Landers · o. 713.353.7167 · c. 832.544.2894 · clanders@totalsafety.com