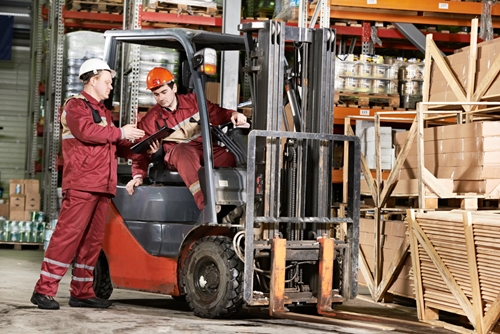 Loading docks are an especially common element of workplaces, from grocery stores to heavy manufacturing plants and distribution centers. These vital links in the supply chain make it easier to transport, distribute and sell or utilize many different goods, commodities and raw materials. However, they frequently feature conditions that can lead to serious injuries for employees unless they're appropriately addressed. With forklifts, trucks, heavy pallets and potentially dangerous heights all involved – just to name a few potential hazards – it's critical that businesses develop and regularly update industrial safety plans related to loading docks.
Around the edges of the loading dock
Loading docks have so many moving pieces involved that no single safety component or plan will be enough to prevent all injuries or incidents. Everything from the path trucks follow to drop off and pick up their loads to the areas where forklifts and employees enter and exit the area have to be addressed, along with all factors of the dock itself. Those points of entry and egress are a good place to start a safety plan or review.
Liberty Mutual Insurance suggested checking the pavement that leads up to loading docks, in an effort to stop tractor-trailers from encountering potholes and other obstacles as they make the often-delicate approach to the dock. Small disruptions in the blacktop likely won't cause any problems, but can deteriorate and eventually create a hazard if left unchecked. In a similar vein, signage that alerts workers they're entering the loading dock area can heighten awareness of the increased potential dangers that exist.
Providing wheel chocks for tractor-trailers parked at the loading dock also goes a long way toward stopping any negative consequences related to the movement of the trailer when it's loaded and unloaded. Liberty Mutual suggested chaining the chocks to the loading dock, ensuring they remain close by and can easily be used on each new arrival.
Barricades are an effective safety feature for pedestrians walking or working near the edge of the dock. Painting the edge of the dock in safety yellow provides an additional visual cue to everyone working near it.
Moving vehicles and people
"Floor markings and warning signs are strong reminders to be aware of potential dangers."
Industrial safety barriers, when used appropriately, can prevent a host of issues related to loading dock operations. Their applications range from separating areas where powered vehicles and workers on foot complete tasks to protecting the facility from potential collisions between these machines and walls and other structural support elements, EHS Today said. They're also an option for guarding the edge of the loading dock from accidental falls.
Selecting the right barriers is a vital step in ensuring their effectiveness. Businesses need to consider the maximum speed of forklifts and other powered vehicles, the maximum loads they carry and the space needed for the barriers to effectively absorb impacts. The use of fixed or mobile barriers is another option to weigh, and both may be desirable or necessary depending on the specific needs of a given facility.
Beyond barriers, floor markings and warning signs fill important roles as reminders to be aware of other people and vehicles. Designating paths on the work floor won't eliminate every potential collision, but it will reduce the chances of those incidents occurring. Raising awareness is a necessary element for everyone involved. To that end, place appropriate warnings on overhead hazards, like pipes. Marking and padding corners is another safety component that can prevent especially dangerous and costly collisions.
Keeping staff educated and informed
Training is critical for everyone who works in or near loading docks. One of the most obvious needs is for every employee operating forklifts and similar equipment to be trained and certified under the Occupational Safety and Health Administration guidelines. Staff who work on foot in these areas also need to understand what all the relevant safety markings mean and the potential for danger that exists when working near powered vehicles. Reinforcing the need to take personal safety seriously and maintain awareness of moving machinery can make the difference between an accident and a startled, but safe, worker.
Loading dock safety should be a regular consideration for staff and safety managers. With the right approach, training and tools in place, businesses can create the safest situation possible.