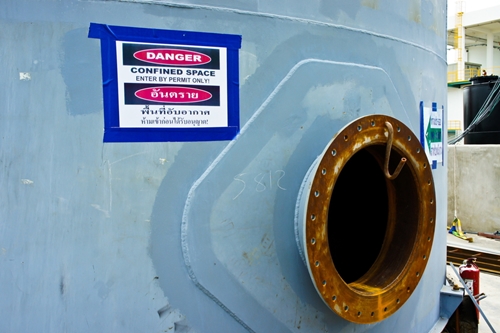 For a number of reasons, employees of industrial firms often find themselves working in a confined space. Worker health and safety is critically important in these situations; indeed, the U.S. Occupational Health and Safety Administration maintains a number of regulations focused on providing a safe working environment and rescue protocols for workers who must work in these confined enclosures.
Having adequate gas detection equipment is a big part of maintaining awareness and compliance regarding confined spaces. Gasses present particular risks for workers with little maneuvering room because they may be odorless and colorless; without the right tools, a worker may be exposed without even knowing for certain. Such hazards can be mitigated by sufficient personal gas detection systems, but before acquiring solutions, companies should know where the gas detection equipment market is headed. In short: up.
Sustained growth into the next decade
The global market for gas detection systems has seen notable growth of late, something that Transparency Market Research said is going to continue into the 2020s. In a recent report, TMR said the worldwide gas detection equipment market will grow at a compounded annual growth rate of 5.6 percent to $5.6 billion by 2024. In 2015, the market value was $3.4 billion. TMR cited the rising tide of rulemaking and worker safety-focused regulation being enacted not just in the United States, but also the developing world at large.
Another factor in creating greater demand for gas detection systems is the shift toward natural gas. Coal has seen significant declines in recent times, and natural gas has risen to the top of many consumers' preferences for heating and energy purposes. The increased number of gas-powered installations means increased chance workers may find themselves in enclosed spaces that could be affected by gas leaks.
Developing world to play large role in market demand
TMR isn't the only market research firm predicting big things for the gas detection equipment market. Persistence Market Research also offered a recent look into the market and found that considerable opportunities for market expansion exist given the high rate of infrastructure projects in the developing world. Researchers highlighted India and Brazil as countries undertaking particularly large projects that will elevate demand for gas detection systems.
High-quality tools needed regardless of use
As evidenced by recent research, more companies than ever are actively investing in gas detection systems. However, while most may understand they need equipment, new buyers often don't have the product knowledge that will help them choose the right option. Working with an experienced and customer service-focused partner like Total Safety can help businesses get the exact gas detection solution for their needs. Whether that's a chip gas detector, pipeline emission monitoring system or multigas monitors, Total Safety has the products designed to keep you and your workers safe.