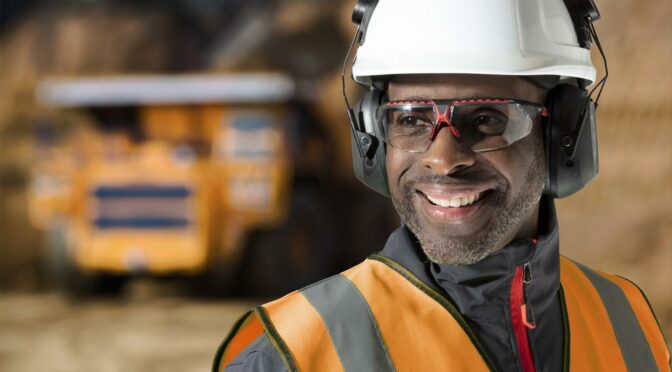 On any industrial worksite, the most important and vital asset to protect is your head. The human brain is delicate, fragile, and the 'packaging' which houses it is vulnerable to impact, bumps, and shock. In fact, head injury is still one of the most common causes of fatal accidents on the jobsite. Since the brain is so soft, it can be damaged by contact with the inside of the skull and also by compression. Proper head protection acts like the crumple zone on your car, absorbing the energy and spreading out the time of the impact.
"Head injury is one of the most common causes of fatal accidents on the jobsite."  
It's imperative that you select the right gear to protect your head and brain. Honeywell, a partner of Total Safety, makes some of the most durable, reliable, and comfortable safety helmets available. We'll learn about that more a little later in the article.
Sensible Risk Management
It's essential for you to get the best performance from your head protection. Helmets and head protection should come with full instructions and the manufacturer or supplier should also provide additional information. It's imperative to always follow the manufacturer's set instructions.
There may be other specific national regulations that require head protection. In the UK, regulations require that suitable safety helmets be worn where there is a foreseeable risk of injury to the head.
Before choosing any protective gear, you should try to remove the hazard or make the hazard less severe. In accordance with sensible risk management, assess the hazards and take the necessary steps to reduce risks until they are as low as is reasonably possible.
The Most Popular Head Protection: Helmets
At work, the best way to protect your head is with a good helmet. Problem is, workers won't wear a helmet that's uncomfortable or fits poorly. So it's important that you select a comfortable, proper-fitting helmet, like the Honeywell North Zone™ Hard Hat. Here are a few things to know about the care, cleaning, usage, and proper fit of your helmet.
Proper Fit – The ideal fit for protective headgear should leave a little breathing room so that air can flow freely. There are many helmets designed to adjust to the user's head shape and size. A common feature includes a sliding mechanism that allows you to adapt the tightness of your helmet. When finding your fit, try to locate a spot in which the hard hat feels secure, yet not painfully tight. Skin abrasions are a sign that you haven't adjusted your hard hat to the appropriate size.
Strap Adjustment – Make sure your strap is secure, yet not too tight. Always adjust the harness suspension to maintain the proper clearance between your head and helmet. There should be approximately 1 to 1 ¼ inches of clearance from your head. Also, examine the strap to ensure it's not frayed or tattered.
Signs of Wear – Every time you use your helmet, look for any cracks in the outer covering. Any cracks, gouges, or flaking can be problematic. Deterioration such as cracks or chalking can cause the hat to break when hit, banged, or knocked.
Proper Cleaning – When cleaning your hard hat, use a mild soap and some warm water. Abrasive cleaners could damage the surface and weaken the shell. Keep your head protection stored away from contaminates, dirt, and debris that can damage the helmet. Also, keep your helmet out of direct sunlight and excessive heat. Sun and heat can harm the outer shell and cause the harness to deteriorate over time.
Proper Replacement – Determining when to replace your hat is dependent on usage, time, and discretion. A helmet should be replaced when or before its protective capacity is significantly reduced. The manufacturer of the helmet is a good source of guidance when deciding replacement. Most manufacturers have specific recommendations detailing when you will need to replace your hard hat. The average lifetime for a safety helmet is approximately 2 to 5 years. Ultimately, if your helmet shows advanced wear and tear, then it's probably a good time to replace it.
Head Protection Standards
OSHA mandates specific requirements for head protection in the workplace and states that employers are responsible to ensure that workers wear proper head protection. OSHA has two standards that carry out safety hat requirements: 29 CFR 1910.135, which refers to industrial workers, and 29 CFR 1926.100 that applies to construction, demo, and renovation workers. Both standards require workers to wear hard hats or safety helmets if there is any potential risk of head injury.
Protective Pairings
Helmets are also paired with other PPE such as eye protection, visors, and ear protection. According to Honeywell, Noise-Induced Hearing Loss (NIHL) is the number one occupational disease in the US and Canada. Unlike most injuries, it's hard to tell when someone has been affected by NIHL because it's painless and progressive. Yet the good news is that Noise-Induced Hearing Loss is totally preventable. Learn about Honeywell's award-winning hearing technology and how they can help your team understand more about NIHL.
Speaking of Honeywell, this top brand is one of the leading providers of head protection in the industry. Combining innovation, technology, and quality, here is a sample of Honeywell's game-changing, top-selling head protection products:
Honeywell Fibre-Metal E-1 Full Brim Hard Hat
On impact, the SuperEight impact energy control system dissipates force by reducing it to smaller increments and spreading it over a greater area. Full brim adds an extra margin of protection from hazardous sun rays and hazardous falling substances.
Honeywell E-2 Cap Style Hard Hat
The exclusive smooth crown design contains a technically advanced suspension with eight load bearing points to stabilize and balance the hard hat during everyday wear.
Honeywell Fibre-Metal Roughneck Fiberglass Cap
Fibre-Metal Roughneck caps with the SuperEight suspension are the industry standard for heavy duty protection. These injection-molded fiberglass caps have earned a solid reputation on construction sites, steel plants, and other extreme jobsite environments.
Honeywell North Matterhorn Hard Hat
All-purpose lateral impact HDPE hard hat with foam liner is tough and durable. It's the choice of quick fix or ratchet suspensions, both with forehead comfort band and crown pad for optimal comfort.
A safety helmet is a necessary part of the work day. It helps protect your head from impact, shock, and major injury. To put it simply, proper head protection can save your life! Wearing a hard hat may be a little uncomfortable at first, but with a few adjustments, it'll become second nature. Most importantly, the right helmet will protect the most important asset of all…your brain. So as you gear up for work, remember to put on your Honeywell hard hat, protect your head, and return home safely at the end of the day.