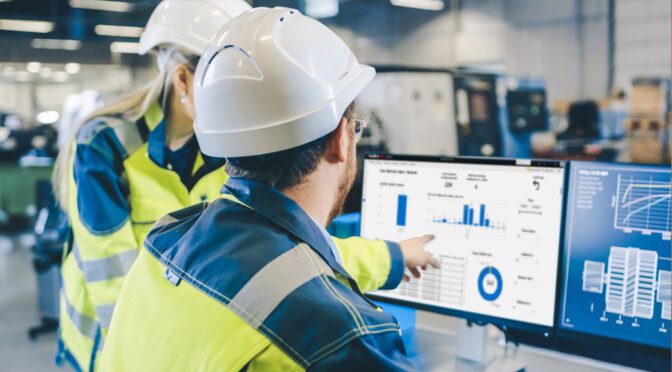 Without a doubt, your most valuable asset is your workers. Keeping workers safe should be at the top of every company's priority list. To get the job done right, workers need to be healthy, safe, and protected. Safety is more than an action item, it's a responsibility. Advanced safety technology is one way to help create a safer environment for your workers.
Technology can help prevent accidents, injuries, and loss of life through advancements like fall protection, GPS, wearable devices, real time communications, and gas detection. Not only does technology protect workers, it also helps operations stay in compliance with OSHA regulations.
"Falls remain the number one cause of injury and death at construction worksites."
Innovation provides other benefits to your operation as well. For example, state-of-the-art monitoring systems centralize, analyze, and report data in real-time to help your business be more efficient, productive, and streamlines costs.
At Total Safety, our mission is to ensure the safe wellbeing of workers worldwide. That's why we provide advanced safety technology and innovation to worksites around the world.
Let's look at a few of our breakthrough technologies that help keep workers safe.
Fall Protection
Fall hazards can never be ignored. In fact, fall protection was the most-cited standard enforced by OSHA in 2019 and remains the number one cause of injury and death at construction worksites. Falls usually happen due to inadequate safety equipment, failure to safety procedures, improper use, and neglecting safety measures. With Total Safety, new innovations keep workers safe with real-time monitoring, motion and non-motion detection, and immediate alert technology. Fall detection devices are regularly inspected to ensure that protection meets safety and compliance regulation requirements.
Centralized Confined Space Monitoring (CCSM)
Working in tight, enclosed spaces can be a very challenging situation. Total Safety's patented Centralized Confined Space Monitoring™ System (CCSM) maximizes worker safety by monitoring confined spaces remotely from a central control room. CCSM includes an innovative risk control process to employ dedicated equipment with trained safety technicians. Our system uses five types of technology which includes badge/ID reader technology, fixed gas monitoring, closed-circuit cameras, audible and visual alarms, and push-to-talk communications.
Gas Detection
Industrial worksites face the threat of gas exposure, which can endanger the lives of workers and compromise the project at hand. Our gas detection technology helps keep your workers safe from invisible threats. Trained technicians, intelligent software, and specialized equipment provide gas detection monitoring in real-time. Mobile-connected smart inspection, alerts, and asset tracking will safeguard your jobsite in compliance with OSHA regulations. Connectivity also provides the gateway to relay data to smart software for storage, organization, and reporting. 
Wearable Devices
When it comes to work safety, be assured that protection is always with you. Wearable technology, such as Total Safety's SafeTek ShieldTM, keeps workers safe with real-time monitoring, detection, and immediate response. From gas monitoring to motion and fall recognition, wearable GPS devices track, notify, and provide emergency assistance in an instant to protect workers during critical situations.
Real-Time Communication
Direct, real-time communications is vital in mission critical situations. At Total Safety, we use Motorola 2-way radios because they are engineered for reliability in the toughest conditions and situations. Our connected 2-way radio systems, networks, and communications monitoring link workers to a centralized control room, ensuring immediate assistance and responsive incident resolution. Real-time communications help keep your workers safe, when they need it most.   
PPE Distribution
Today, personal protective equipment (PPE) is one of the most important items available to help safeguard your workforce. We utilize smart vending and online ordering of PPE to provide workers the essential equipment needed to get the job done safely and efficiently. SafeTek eDistribution™ technology makes it easy for you to order, monitor, track, and distribute PPE, tooling, and supplies. Total Safety's eProcurement solutions combines technology and advanced reporting to ensure workforce safety and increase productivity.   
Asset Management
It's crucial to make sure your workers have the right tools, at the right time, right at their disposal. Asset management solutions are designed to monitor, control, distribute, and maintain PPE, tools, and supplies to optimize production output. With our industrial vending machine's auto-refill functionality and tool cribs, these solutions help increase productivity, efficiency, and peace of mind. 
The best way to keep workers safe is having the latest, most advanced technology on your side. We can help. Talk to a Total Safety expert today (888-328-6825) and find out more about our SafeTek™ worker safety technology.