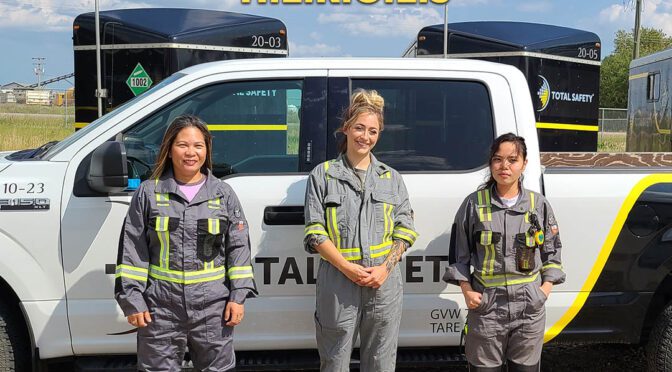 Meet Sharmayne, Dolly and Denielle. Early on the morning of Saturday, July 24th, 2021,  Sharmayne Pilisko, Dolly Villareal, and Denielle Olivares's were in a Total Safety company truck on their way to a remote job site when they passed a house that appeared to have smoke coming from it. Without hesitation, the team decided they should investigate. They discovered a shed on the property was on fire and posed a serious threat to a nearby home.
The team's emergency response training was put into action immediately. Sharmayne called 911, while Dolly and Denielle alerted the sleeping residents of the situation. The team was able to evacuate a grandmother, with her grandchildren, to a safe place. Next, they evaluated what property could be saved from the fire, and were able to save one of the family's vehicles that was near the burning building.  The team waited with the family until help arrived.
Once the incident was under control, Sharmayne, Dolly, and Denielle continued to the job site and worked a full day as if saving lives is just part of a typical day's work.  Meanwhile, the family called Total Safety's dispatch office to express their gratitude for the thoughtfulness and bravery our employees displayed. They were able to assess the circumstances and make informed decisions that "helped save our family members, our home, a 50 year career, and our family legacy. "
Total Safety is proud to recognize the heroic acts of these three women for their extraordinary actions to ensure the wellbeing of others, no matter the situation.