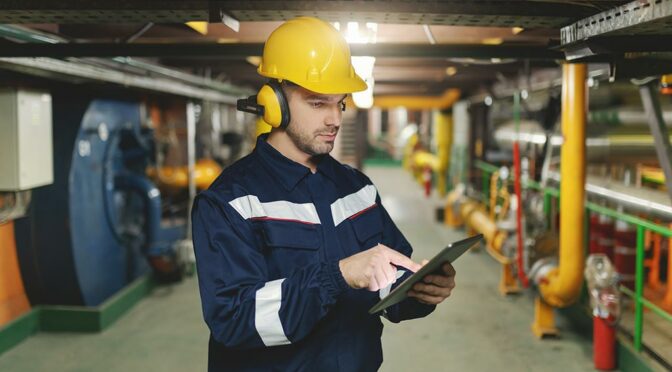 How Safe Is Your Lone Worker?
Enabled by flexibility, adaptation, and technology, 'lone working' in almost every industry is on the rise. Yet lone workers face many challenges in the workplace, among them increased risks from both social and environmental hazards. Since lone workers operate in isolation, they require a different set of safety measures and solutions. In today's industrial work environment, providing lone worker protection and advanced safety technology is absolutely crucial.
What is a lone worker?
The term 'lone worker' is actually more than it sounds. A lone worker is anyone who carries out their job tasks out of eyesight of colleagues and employers. You can find lone working jobs in a considerable number of industries such as construction, security, healthcare, and factory work.
"Total Safety is there to protect lone workers on the job, 24/7."
Workers in every industry confront some degree of risk, yet the lone worker faces an increased risk simply due to the fact that they are alone. Lone workers cannot call out for help to a fellow worker in the event of an emergency. Furthermore, if workers run into any dangers or hazards, there's nobody nearby to assist them or provide medical treatment.
OSHA Guidelines
Although there are no other federal OSHA rules that specifically apply to working alone, requirements of health regulations still apply. For example, OSHA's guidelines for medical assistance require employers to have someone on site who is trained to administer first aid and that medical supplies are available (unless there is a hospital or clinic 3 to 4 minutes away). It is the employer's responsibility to have medical treatment and first aid readily available to all lone workers.
According to Health & Safety International magazine, there are over 50 million lone workers in the United States, Canada, and Europe combined. This number represents about 15% of the entire overall workforce. These additional stats reflect the importance of implementing a lone worker safety policy:
44% of workers say they face personal safety issues at their primary worksite
According to the

US

Department

of

Labor,

there are 10,000 victims of sudden cardiac arrest at work annually

Each year

, approximately 92 workers die in confined space related work incidents
These numbers indicate how dangerous it can be as a lone worker. S it's clear that lone worker safety (and applying lone safety technology) should be a high priority for any organization.
Lone Worker Safety Devices
"Response time in emergency situations is critical. Every second counts. Connectivity is a key component in managing a timely response."
Lone worker safety devices have become increasingly popular in recent years. These devices are designed to protect workers from the challenges that come with working alone. A lone worker safety device is a tool, app, or service which allows for communication with managers or a safety team in emergency situations. It provides a quick way to reach others in an emergency and provide reassurance for workers so they can get the job done with confidence.
To notify safety personnel, a lone worker safety device can have features like a has a panic button and GPS location capability to alert responders to where the worker needing assistance is located. Some devices will also offer additional functionality such as discreet panic, two-way audio, and recorded voice notes.
Device/System Advantages
Lone worker safety devices and systems connect workers across a variety of lone working job roles. Here are situations where lone worker systems provide such an advantage to employees:
Invisible Hazards (ie. poor air quality)
Trips and Falls
Heavy Equipment Accidents
Environmental Dangers
Medical Emergencies
Hazardous Objects (Injuries from being struck by or against nearby object)
Violence at Workplace

Vehicular

Accidents
"Employee-worn technology and monitoring automation are the most robust solutions to keep lone workers safe."
Employees may also be outfitted with a warning device or alarm. This may include panic alarms or other distress signals the employee can activate from the work site. Employers may also choose to utilize an automatic alarm that goes off under certain conditions, such as lack of movement or exposure to hazardous substances. Automatic alarms can be especially helpful for reducing safety risk in the event a lone worker has fallen unconscious or is unable to speak.
Alarms are available from multiple manufacturers and may be selected based on the specific characteristics of the work environment. The alarm itself won't protect workers, so it's absolutely critical to have an emergency response procedure in place once the alarm is triggered. It is the employer's responsibility to protect their workers and train them on the Emergency Response Plan(ERP) specific to their job.
Finally, employers should implement a system for incident reporting so that if any accidents or injuries do occur, the situation can be remedied before additional incidents occur.
Implementing a lone worker policy
Training
Lone workers need to be trained and prepared for every possible scenario. Upon entering a workspace, it's important for lone workers to know how to scan the environment for potential hazards. Some common conditions to look into include weather risks, chemicals, biohazards, or the potential for slips or falls. Conduct risk assessments to determine the best way to handle each individual situation. Your operation should have a clear emergency response plan in place and site managers must know how to execute the plan. Training and practice are critical in emergency situations.
Employee Communication
Communication technology has come a long way over the years. Advanced innovation in worksite communication gives lone workers access to intrinsically safe devices with features such as:
Panic Buttons
SOS Calling
GPS Location Capability
Automatic check-ins
Fall detection
Movement detection
Mobile app solutions
Organizations are turning to mobile apps to improve lone worker safety. Today, mobile apps use location services to pin-point workers' precise location and give them a connection to emergency assistance without pushing a button. Employees need personal safety devices that deliver such notifications within seconds.
Total Safety's SafeTek™ Guard
SafeTek Guard™ keeps lone workers safe with connected worker technologies to provide real-time data and assistance in critical situations including emergency notification monitoring, motion detection, and open communication and alarm technology. From gas monitoring to motion and fall recognition, our connected wearable technologies  have a variety of capabilities.
GPS Location Capabilities
Emergency Alarming
Emergency Support from Command Center
Communication – voice or text messages
When
Safety
Matters,
We're
Ready.™
Now more than ever, it's important to have the technology, real-time insights, and a working emergency response plan in place to protect your lone workers. For more information about lone worker solutions and our SafeTek Guard™ technology, talk to a safety expert at Total Safety today. We're ready to help!