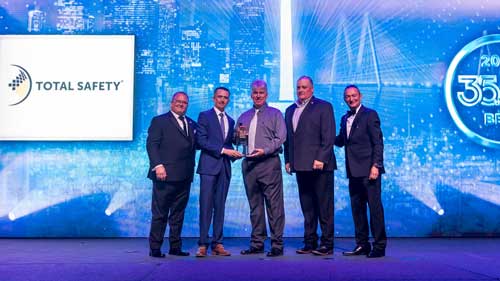 On May 20, 2022, Total Safety attended the 35th Annual Houston Safety Excellence Awards event hosted by the Houston Business Roundtable (HBR) and Houston Area Safety Council at Moody Gardens in Galveston, Texas. Each year they recognize contractors or subcontractors in the Texas Gulf Coast Area who achieved an outstanding record of on-the-job safety promotion and performance. The true purpose of the award process is to encourage collaboration on industry trends, innovative technology, best work practices, facilitate industry improvements, and encourage companies to work together on issues and initiatives. The Safety Excellence Awards evaluation teams only select the best of the best to be nominated for the award.
Total Safety was nominated by two of our customers. After the nomination was accepted by the HBR Safety Evaluation team, Total Safety's HSE team had to prepare for a comprehensive audit of the company's corporate HSE program and how it is implemented at the In-Plant Service Center (IPSC) level at the customer site. The audit teams are formed by other customers and peers in the industry.
Total Safety is proud to announce they were awarded the prestigious "Best in Class Award for Technical Support Large Contractor" category. Steve Long, Vice President HSEQ stated, "It's an honor to be a part of the Houston Safety Excellence Awards process.  Being nominated in the first place is quite an accomplishment for our employees and then winning Best in Class in our category is very special.  We could not have achieved this without the support of [our customers] and the committed employees at Total Safety".
Join us in congratulating our Total Safety teams who put in the challenging work and effort to make winning the "Best in Class" award possible.