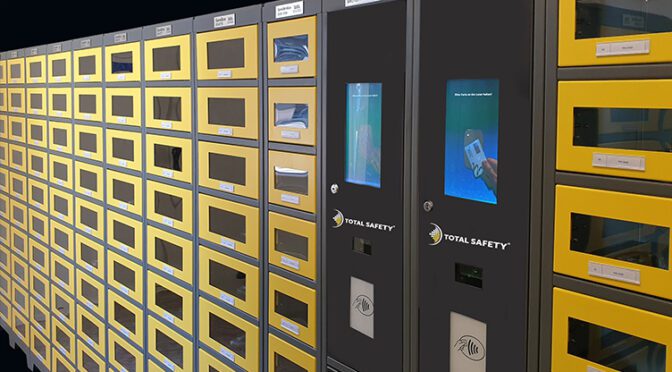 A large utility company in California was facing challenges with controlling inventory costs and preventing waste. They required certain items to be available 24/7 and accessible near specific work zones in the plant. They also needed to keep track of the inventory that was issued by the department and the employees for billing purposes.
The Solution
Total Safety's vendor-managed inventory (VMI) program uses the latest automatic vending technology to help businesses to have an automated point-of-use dispensing solution. Our vending machines are highly customizable to hold tiny items like nuts and bolts to large items like an engine. Our software is easily programmed to set up employee allowances, and automatically restock orders. Our team designs a custom program to fit the customers exact needs and provide 24-hour support.
For this customer, Total Safety evaluated the company's needs and set them up with eight different machines throughout the plant. The machines were stocked with 80 unique critical point-of-use items. We went a step further and added quality restrictions on products like batteries and flashlights. Certain items were designated as secure check in / check out items, and restrictions and time stamps were applied.  For popular consumables, we set the customer up with inventory alerts, and automatic refills.
This level of inventory management service helps to ensure that the workforce always has the PPE, tools, and MRO supplies required to perform their work and eliminates downtime. Workers have access to items they need right in their work zone, without having to walk to a manned tool crib.
The Result
After just one year of using Total Safety's vending program, the company reported that a multitude of challenges from inventory tracking to cutting spending, to storing odd-shaped items was solved! We were able to reduce their overall inventory spend by 39%! They reported increased activity and time on tools,  because employees had exactly what they needed to do their job readily available.
Total Safety helps organizations achieve higher safety standards and create a workplace culture of safety. Go beyond the basics with  our VMI solutions,  high-quality safety equipment, PPE, and  MRO solutions. We are committed to helping you meet compliance, reduce injury, and help to protect the safe well-being of your workforce. 
W³…to ensure the safe Wellbeing of Workers Worldwide. ®