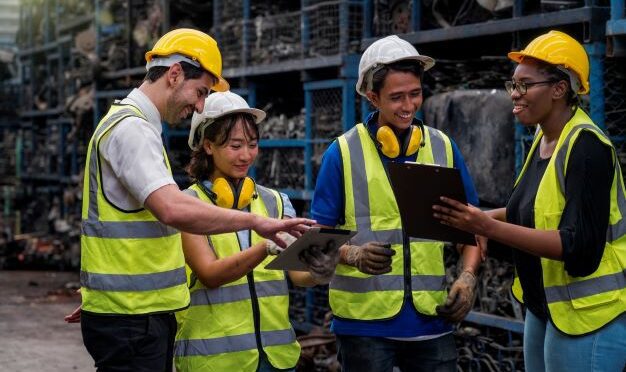 Occupational health and safety is a practical matter, where the major goals are commonly shared by the business and its staff. Companies have a vested interest in both keeping workers safe and staying on the right side of relevant regulations. 
This common desire for a safe workplace doesn't mean problems won't arise, however. Employees may become complacent or view certain safety requirements as too tedious to follow while safety managers and business leaders may not notice these issues or work to resolve them quickly. 
How can organizations encourage a better overall climate for workplace health and safety for both frontline employees and managers? The answer is effective employee engagement. 
What is Employee Engagement?
Employee engagement describes those who are committed to their work and the goals of their company. They understand the organization's safety objectives and are dedicated to achieving those goals. Engaged employees are motivated, committed, and give their best effort at work…not only because they're paid to be, but because they're invested emotionally or have exacting standards. 
Why is Employee Engagement Important? 
"Employees and workplaces with high levels of engagement are safer, too." 
Employee engagement can help operations execute safety procedures much easier and with more cooperation from your employees. An engaged employee will go out of his or her way to ensure things are done right and actively offer their opinions, suggestions, and feedback. More importantly, highly engaged employees are less likely to have an accident on the job than those who are less engaged. 
Highly engaged employees: 
are more productive

 

stay with the company longer

 

practice safe work behaviors

 

encourage others to work safely

 

comply with safety instructions

 
Employee engagement can also have a positive impact on a company's bottom line. Engaged workers are more efficient, accountable, and able to produce better. Consequently, companies are able to post higher profits and shareholders see better returns. 
How to Improve Employee Engagement
The importance of effective engagement is clear in terms of improving workplace health and safety concerns. There are many tactics for improving engagement, including:
Regularly involving staff in health and safety concerns: All businesses need to train employees on a variety of relevant safety issues, but businesses with high levels of engagement go further. Open, two-way communication about why and how the company deals with safety issues is important, as giving employees a voice makes them feel involved and heard. Addressing potential concerns proactively and transparently helps convince workers that their employer is doing more than the bare minimum and can inspire a similar sense of participation.
Recognizing employee achievements: Simple actions, like thanking workers for continued periods of safe operation and informal praise for following safety rules, can have a positive effect on employees. Expressing support and recognizing good behaviors is an easy (and effective) way to reinforce positive actions amongst your staff.
Give feedback: Studies show a correlation between regular feedback and employee engagement. 43% of highly engaged employees receive feedback at least once a week, compared to 18% of employees with low engagement. Also, 69% of employees say they would work harder if they were appreciated more.
Supporting ongoing employee development: Employers can cultivate engagement by providing ongoing opportunities for professional development. When employees are empowered to work safely and confidently, companies will have fewer accidents and more satisfied workers. Businesses that give employees resources to grow in their roles and move into new ones show they value their staff in the long term.
Supplying

excellent

PPE

and

other

safety

equipment:

Providing

proper PPE, uniforms, and quality life-safety equipment is a clear

indication

that the employer is invested in keeping their workers safe. 

 
Total Safety helps organizations achieve higher safety standards and create a workplace culture of safety. Go beyond the basics with  high-quality safety equipment, PPE, and safety training. We are committed to helping you meet compliance, reduce injury, and help to protect the safe well-being of your workforce.