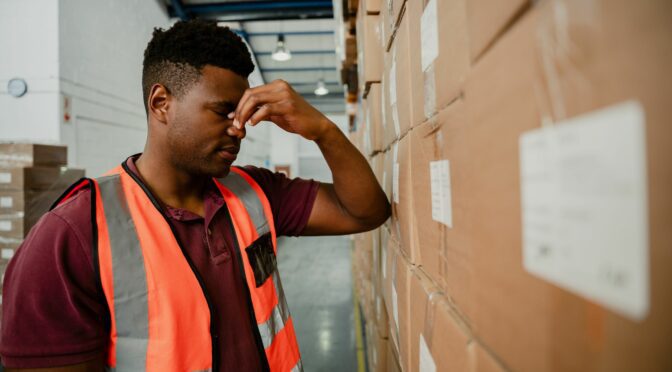 Many people experience stress on the job at some point in their careers. However, the problem may be more pervasive and dangerous than some employers realize.
Causes of Stress in the Workplace
According to a survey from the American Institute of Stress, 80% of workers feel stress on the job and nearly half say they need help in learning how to manage stress. Forbes reports that overall employee stress levels have risen nearly 20% in three decades. Forbes also found that excessive workplace stress, including 10 specific workplace stressors, cause a staggering 120,000 deaths and results in nearly $190 billion in health care costs each year.
These 10 identified stressors include:
 No health insurance
 Organizational injustice
 High job demands
 Shift work
 Unemployment
 Secondhand smoke exposure
 Low job control
 Low social support
 Long work hours
  Job insecurity
Many workers experience higher levels of stress due to being overworked. This may include working long shifts, overtime and not taking vacation or paid time off even when available. Many workers also work when feeling ill even when they have sick days available.
Impact of Stress in the Workplace
Productivity depends on employees' time management skills and ability to focus on the job at hand. When job stress comes into play, workers may find it difficult to focus and meet deadlines. More significantly, stress can trigger other mental health concerns that impact job productivity— including conflict, burnout, anxiety, and depression.
Stress can also contribute to an increase in workplace accidents. Some of this can be related to stress coping mechanisms – such as alcohol or medication, which even when not consumed during work hours, can impact worker health or reaction time. However, stress can also contribute to distraction. A stressed worker is more likely to be thinking about his or her stress source and be less focused on the task at hand, the magazine noted. Poor attention can lead to accidents and injury.
Other job stressors that can lead to fatigue and inattention, and correspondingly accidents and injury, include excessive workload, fear of being laid off, unreasonable performance demands and infrequent breaks.
How Employers Can Address Workplace Stress
The National Institute for Occupational Safety and Health offers training resources for employers to help them recognize worker stress and address the issue. When analyzing the work site for common stress sources, NIOSH advises employers to look to:
The design of tasks: Including heavy workload, infrequent breaks, hectic routines or long hours

Management style: Such as poor communication, unrealistic expectation and disrespect for workers' families or personal lives

Interpersonal relationships: Workers should not experience harassment or isolation in the workplace

Work roles: Including conflicting, unclear or unrealistic job expectations or responsibilities

Career concerns: Job insecurity, poor training, and lack of career growth can all contribute to stress
NIOSH added there are many warning signs of work stress on the job that employers should not ignore
How Employers Can Identify Stress in the Workplace
Fatigue
Low morale
Anxiety
Irritability or short temper
Alcohol or drug use
Changes in appetite
Frequent headaches
Fighting in the workplace
Difficulty concentrating
Not addressing stress early can be costly for both employer and employees. NIOSH found the long-term impacts of stress can lead to increased incidence of cardiovascular disease, musculoskeletal disorders, psychological disorders, and impaired immune systems. For employers, stress even in the short term can affect health care cost and employee retention and absenteeism. NIOSH noted workers who had to take leave for stress-related issues needed an average of 20 days off before returning to the job.
NIOSH encourages employers to reduce workplace stress by creating recognition systems to reward employees for good work performance. Opportunities for career development and advancement and managerial actions that are consistent with organizational values also help to lower workplace stress.
Employers can also enact administrative controls such as reducing shift length or physical demands of tasks. Stress management and other wellness programs can also be introduced to help workers cope with stress sources. NIOSH also advised employers to be flexible in work hours and tasks when workers have responsibilities or other factors in their personal lives that are creating stress.
How Total Safety Can Help Promote a Safe Workplace
At Total Safety, our mission is to ensure the safe Wellbeing of Workers Worldwide®. Our training solutions create a workplace culture of safety and help promote stress management for your workforce. We go beyond the basics with employee training programs that help address both the mental wellbeing and the overall physical safety of your workforce.
We're ready to help. Visit our website or talk to a Total Safety expert today at 888-328-6825.