Industrial Safety Moments App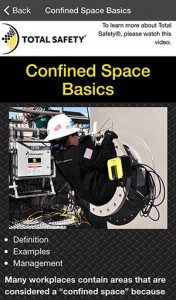 This convenient new tool is a compliance and training oriented approach to shared safety moments and easily accessible directly on your mobile device.
Total Safety designed the Industrial Safety Moments app with workers in mind. Total Safety experts applied more than 20 years of safety experience to develop real-world, relevant topical overviews, and conversation starters.
Plus each Total Safety Industrial Safety Moment links to the relevant regulatory requirements, making it easy to access and share critical information.
Users can find the perfect safety moment content by entering the app through the market specific – industrial channels on the opening screen. Once in the industrial channel of their choice, they can search by solutions in a wide array of safety categories such as gas detection, emergency rescue, fire prevention, respiratory protection, industrial hygiene, and much more.
Total Safety also provides a convenient tool at the bottom of each safety moment that allows users to receive a slide of that safety moment for insertion into a presentation. And, with the touch of a button, users can easily share the app with a friend.
The Total Safety Industrial Safety Moments App can be downloaded straight to your IOS or Android device:
Download from iTunes Store 
Download from Google Play
Watch a video about our Industrial Safety Moments App here.