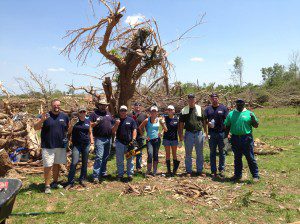 Total Safety employees are supporting local efforts to aid and assist the victims of the devastating tornados that swept through Oklahoma in May. The company has sent volunteers to assist with clean up, along with truckloads of safety equipment and supplies, including hard hats, safety glasses, Tyvek® coveralls, respirators and gloves.
"Our Total Safety volunteers, working alongside the Serve Moore organization, will do their best to help insure safety in the communities where we work and live," says Terrell Sosebee, Total Safety account manager.  "We know we are only a handful of the countless volunteers helping out, but we're proud to contribute the time and equipment we can."
The Serve Moore organization currently is in need of volunteers to clear up home sites, parks, and right of ways in Moore, Oklahoma. Two dozen people lost their lives, hundreds were injured, and thousands of individuals have lost their homes as a result of the EF5-rated tornado.
David Fanta, Total Safety CEO, expressed, "Our thoughts and prayers are with the victims of this storm and their families. Our desire is to support relief efforts as best we can in hopes that we can lessen the burden on those affected."
To get involved through either volunteering or donations, visit www.ServeMoore.com.
About Total Safety
Total Safety, a Warburg Pincus portfolio company, is the world's premier provider of integrated safety and compliance solutions and the products necessary to support them, including gas detection, respiratory protection, safety training, fire protection, compliance and inspection, industrial hygiene, onsite emergency medical treatment/paramedics, communications systems, engineered systems design, and materials management. It operates from 141 locations in 19 countries to ensure the safe Wellbeing of Workers Worldwide (W3).
Total Safety has been selected as one of "America's Safest Companies" for 2012 by EHS Today, in addition to receiving the "Best in Class" award from the Houston Business Roundtable, multiple AFPM Awards, and a host of industry and customer safety accolades. For more information about Total Safety and its unwavering commitment to safety, visit www.totalsafety.com.
For additional information, contact:
Stenning Schueppert
Senior Vice President – Strategy, Marketing & Corporate Development, Total Safety
713-353-7182