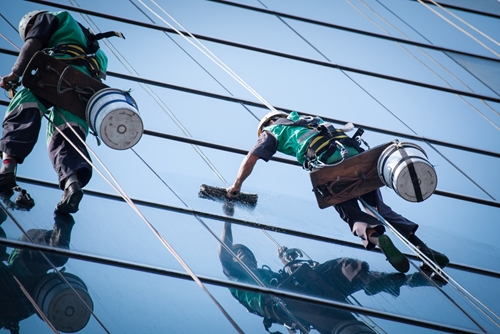 Falling from heights onto a working surface is one of the leading causes of accidents and fatalities in the workplace, according to the U.S. Occupational Safety and Health Administration. To combat this issue, OSHA issued a final rule to update its general industry walking-working surfaces standard that pertains to fall hazards, trips and slips. This final rule went into full effect Jan. 17 and has a substantial impact on employees and employers.
The effect on employees
Nearly 112 million workers at 7 million work sites are affected by OSHA's final rule. The majority of workers affected by this updated rule range from warehouse workers to painters. This rule doesn't apply to the construction industry (it has its own fall standards).
"The new standards may prevent 29 fatalities and 5,842 injuries annually."
OSHA believes its updated standard will better protect workers in general industry occupations because standards have been updated to reflect a modern work site. Additionally, OSHA added inspection and training requirements.
Employees will be glad to know this final rule incorporates new technologies, national standards and best practices so they're fully projected while working, Assistant Secretary of Labor for OSHA, Dr. David Michaels, said in a press release. Employees will likely find comfort knowing that fall protection equipment must be provided if they'll be working along unprotected sides or edges 4 or more feet above a lower level.
"The final rule will increase workplace protection from those hazards, especially fall hazards, which are a leading cause of worker deaths and injuries," said Michaels.
The new standards may prevent 29 fatalities and 5,842 injuries annually.
The effect on employers
Ultimately, it's up to the employers to ensure their employees work in safe conditions, and that should be their No. 1 priority. Otherwise, they're risking the lives of a dedicated workforce and drawing the attention of OSHA inspections.
Understanding training requirements
Employers are now required to train workers on how to use personal fall protection equipment. Employees also need to be instructed (or retrained) on how to work in hazardous situations. OSHA developed three main training actions. Workers must be taught to:
Identify and minimize fall hazards.
Utilize personal fall protection systems and rope descent systems.
Maintain, inspect and store fall protection systems.
Choosing fall protection systems
One of the biggest changes OSHA decided to enact was to provide employers with greater flexibility when choosing a fall protection system.
For many years, employers have had to use guardrails as a primary fall protection method. While guardrails are no doubt helpful pieces of equipment, they aren't always the most practical choice depending on the work site. Employers will be able to choose a fall protection system they believe works best. This approach has been utilized in the construction industry since 1994 and has worked to great effect.
Per OSHA, employers can choose from the following fall protection system options:
Safety net system.
Positioning system.
Travel restraint system.
Personal fall arrest system.
Ladder safety system.
Guardrail system.
Rope descent system.
Employers will also need to ensure their ladders are up to par. Falls from ladders account for approximately 20 percent of fatal falls and lost work-day injuries. OSHA's final rule requires fixed ladders support the intended maximum load, while portable ladders should support about four times their designated maximum load.
Updates made to Fall Protection Code
If companies seek further guidance on purchasing fall protection equipment, they should adhere to the newly released ANSI/ASSE Z359.1-2016 standard, also known as the Fall Protection Code. It goes into effect Aug. 14, 2017, Occupational Health & Safety reported.
The code – developed by the American National Standards Institute – is the most current way to ensure equipment meets fall protection standards. While not a law, the standard is widely followed throughout the general industry. This guide should be part of organizations' overall safety plan and be referenced when purchasing fall protection equipment.
A lot is changing in terms of fall protection standards from OSHA and new equipment guidelines from ANSI. While everything may seem overwhelming, employers have time to meet these new compliance standards.
The updated provisions will go a long way toward improving worker safety. If employers need new fall protection equipment, they should contact Total Safety today.